The PDRIB POST - Spring 2011
The PDRIB Post, the Official Newsletter of the Professional Development and Research Institute on Blindness
The mission of the Professional Development and Research Institute on Blindness is to provide leadership in creating programs, preparing professionals and conducting research that empower blind individuals not only to live independently, but also to participate fully in society.
Spring 2011
THE DIRECTOR'S DISH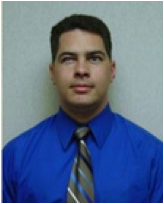 Well, winter is just about gone, and we here at the Professional Development and Research Institute on Blindness are looking towards a very bright and exciting spring and summer. In this, the second edition of the PDRIB Post, we have a number of exciting events and pieces of news to share with you.

We have graduated two new Teachers of Blind Students (TBS) since the winter edition was published—Congratulations to Geneva and Niki. Several more O&M and TBS students are well on their way towards graduation, and will be looking for employment after this summer. There have been weddings, child births, and a host of exciting news from the personal lives of our graduates and Institute family.
Over the next couple of months, there is so much going on here at the Institute that it is impossible to fit it all into this one message—but I'll give it a try anyway. We are excited about our first attempts at selling T-shirts that promote the independence of the blind. Use More Canes, and Priceless, are the first two shirts that we are offering, both with a message of independence and inspiration. More information is listed below where you can learn how to purchase one, or a dozen for yourself and your closest friends!! Or, go directly to: http://www.gemini-rt.com/?page_id=37 to purchase right now!
The 7th Annual Cradle to Career: the ABC's of Blindness will be held April 7-8 in Shreveport, LA. After six years, Dr. Ryles has put together yet another exciting agenda for parents, teachers, and consumers that is sure to spread both practical skills, along with the deep philosophical perspective that has come to characterize this conference. Whether you live in Louisiana or Alaska, this is shaping up to be an exciting event that you won't want to miss.
Our research activities are in full swing. We will be putting the finishing touches on our final validation of the National Reading Media Assessment (NRMA). We are just in the beginning phase of our initial pilot of the brand new National Orientation and Mobility Assessment (NOMA). If you work at, or with any of our summer programs for blind kids, you may be asked to help out with this pilot test. Finally, we are getting ready to launch our Adult Rehabilitation and Education Survey (ARES). This survey will be sent out to every blind person across the country that we can get our hands on, and we will be asking you for your help. We want a vast cross section of the population for this study, those who have had training, or not, who are members of NFB, ACB, or who don't affiliate with anyone. The results will be a powerful snapshot of the rehabilitation, education, and economic outlook for adults who are legally blind. Check in your in-box and mail box for more information about this survey in the coming months. We have had two more research articles published in the brand new Journal of Blindness Innovation and Research (JBIR), which promises to make a significant contribution to the field of rehabilitation and education of the blind.
Before we even get to Shreveport for the ABC conference, plans are well under way for our 10th Annual Rehabilitation and Orientation and Mobility Conference: Structured Discovery: The History, the Legacy, and the Future. This conference will be held in Orlando Florida, at the Rosen Shingle Creek Hotel, Sunday, July 3. Pre-registration is open now at: www.nbpcb.org/pages/conferences_dates.php . There will be several very exciting speakers at this conference that will surprise you and intrigue you. Mum's the word on that for now—more to come later.
The National Certification in Literary Braille (NCLB) is getting back on track, with more than ten different testing dates and locations scheduled between now and the NFB National Convention. New modifications are also coming out with the National Orientation and Mobility Certification (NOMC) that will enhance and streamline certification processes. And, oh yeah, if you are getting a little confused on all of these national certifications and assessments (NOMC, NCLB, NRMA, NOMA…), I feel your pain. And yet, we have titled these projects purposefully. We remain somewhat small within the larger field of education and rehabilitation, but we expect our impact to be felt nationwide. We fully anticipate our certification standards and assessments to become the gold standards nationwide, and so we will continue to title them in that vein. So, start practicing them now so you will sound like an expert!
We, at the PDRIB are extremely proud of the accomplishments we have made already in 2011, and even more excited about all that the remainder of this year promises ahead. Be sure to call upon us if we can help you with your professional pursuits, if you have questions, or if you have exciting news of your own that you would like to share.
CERTIFICATION CENTRAL
This section is dedicated to updates on The National Certification in Literary Braille (NCLB) & The National Orientation and Mobility Certification (NOMC), both of which are awarded by the National Blindness Professional Certification Board (NBPCB).
Certification Update:
We have greatly expanded testing locations for the National Certification in Literary Braille (NCLB) exam. This has involved recruiting and training qualified NCLB test administrators around the country. We just administered our first NCLB test in Baltimore, Maryland with a recent Test Administrator recruit, James Konechne who handled the administration of this important test in a highly professional and excellent manner.
We feel it is key for us to expand the test and offer it in a variety of locations to ease the burden of travelling for those who wish to take the test. We are always looking for new test locations so please contact Deja Powell at dpowell@latech.edu if you are interested in hosting a test in your area OR if you are interested in becoming a certified NCLB test administrator for your state.
Upcoming NCLB Test Dates:
Saturday April 9th, Virginia Services for the Blind and Visually Impaired,
Richmond, Virginia
Saturday April 23rd, Iowa Department for the Blind, 524 Fourth Street,
Des Moines, Iowa
Friday April 29th, Louisiana Tech University Woodard Hall, Ruston, Louisiana
Friday May 20th, Louisiana Tech University Woodard Hall, Ruston, Louisiana
Saturday May 21st, Utah Division of Services for the Blind and Visually Impaired, 250 North 1950 W # B Salt Lake City, Utah
Saturday June 4th, Virginia Services for the Blind and Visually Impaired,
Richmond, Virginia
Friday June 17th, Louisiana Tech University Woodard Hall, Ruston, Louisiana
Monday & Tuesday Afternoons, July 4th & 5th, Rosen Shingle Creek Resort
9939 Universal Boulevard, Orlando, Florida
Saturday August 14th, Austin, Texas


Upcoming NOMC Test Dates:
September 1, 2011, Ruston, Louisiana at Louisiana Tech University
*To register for any of these tests, please go to our website, www.nbpcb.org and sign up! Specifically, for the NOMC certification, use this link and for the NCLB use this link. Also check back often for new test locations!
The NCLB and NOMC Limelight: Brook Sexton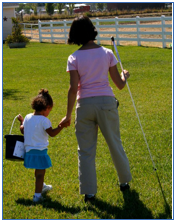 Brook Sexton is both an NOMC and NOMCT, and holds the NCLB certification. She has
INSIDE THE INSTITUTE
Cradle to Career: The ABC's of Blindness Conference:
We are busily preparing for our 7th Annual Cradle to Career: the ABC's of Blindness, a conference for professionals, parents and Louisiana Tech students interested in teaching blind/visually impaired children. The conference will be April 7th & April 8th in Shreveport, Louisiana at the Holiday Inn West.
The agenda for this conference includes a teacher of the blind/VI retreat, teacher and parent roundtables, a cane walk, social skills workshops, book making classes, assistive technology seminar, address from NFB President Dr. Mark Maurer and much more.
Information and registration are available at nfbla.org or call us at 318-257-4554.
T-Shirts to Promote Independence for the Blind
The PDRIB is now selling t-shirts, and we're excited! The two new T-Shirts are designed to promote independence for the blind in a fun and moving way. We have two different shirts to offer.

The descriptions, picture, and order information for both are listed below.
Use More Canes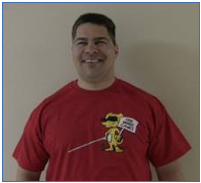 This shirt, reminiscent of the Chick-Fil-A ® Cow, is a Red, short sleeve T-shirt with a graphic cartoon of a cute yellow dog standing up on hind legs. The dog is wearing blindfold and holding a long white cane in his right paw He is holding a white sign that says in black letters "Use More Canes" in his left paw.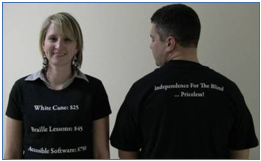 Priceless
This shirt, touting the importance of independence that cannot be captured at any cost, is a black short sleeve T-shirt with white lettering.
The front of the shirt has a printed list which says: "White Cane: $25 Braille Lessons: $45 Accessible Software: $750" The back of the shirt says: "Independence for the Blind… Priceless!"

Adult shirts are $20 each; Youth shirts are $15 each
Sizes are: Adult: small, medium, large, XL, XXL; Ladies fitted: small, medium, and large; Youth: medium or large

We have two options for you to purchase:
To place an order by e-mail or phone, send an email to dseilhan@latech.edu, or call 318-257-4554.
Make sure to include the type of shirt, size and quantity, your mailing address, and contact information. Include $5.00 shipping for 1-5 shirts, $10.00 for 6-10 shirts—speak with a representative for larger orders.
Journal of Blindness Innovation and Research Publishes 1st Volume:

The PDRIB, along with the NFB have created a new peer reviewed journal, The Journal of Blindness Innovation and Research (JBIR) which is the first international, interdisciplinary open access journal created by blind people, parents, teachers, administrators, and academic researchers designed to further efforts to address the real problems of blindness.
The inaugural issue of The JBIR was published at the end of 2010 and we would love to see your submissions. The JBIR does accept and encourage high-quality original research; however, we are equally interested in professional practice articles.
ALL are encouraged to subscribe to this new journal, submit articles, and also apply to be journal reviewers. Go to the JBIR website at www.nfb-jbir-org for more details!
Louisiana Tech Graduates
Fall 2010 Graduates:
Dezman Jackson, M.A./O&M
Jerry Nealey, M.A./O&M
Lexi Albritton, M.Ed./TBS
Winter 2011 Graduates
Geneva Ellingson, M.A.T./TBS
Niki Rogers, M.A.T./TBS
We would like to congratulate our 2010-2011 Louisiana Tech Grads both from the O&M and TBS programs. We know you worked hard and we're proud you're OUR grads!
REVITALIZING RESEARCH
We are thrilled to begin to have some of our most seminal work finding its way into the research literature. What follows is a summary of recent articles that have been published.
Published Research
"A Demographic Study of National Orientation and Mobility Certified Instructors." Edward C. Bell, Natalia Mino, The Journal of Blindness Innovation and Research. Vol 1, No 2 (2011).


Abstract: This article is a descriptive study of the demographic and economic characteristics of National Orientation and Mobility Certified Instructors (NOMC). Although the NOMC credential was established in 2001, this manuscript is the first to provide a picture of this group of professionals. For the full article please subscribe to JBIR by going to: www.nfb-jbir.org.
"The National Certification in Literary Braille: 2010 Update". Edward C. Bell, Ph.D. The Journal of Blindness Innovation and Research. Vol 1, No 2 (2011).


Abstract: The National Certification in Literary Braille (NCLB) is a professional certification that is now available for teachers of braille. This certification, which has undergone a long and arduous climb to fruition, is now available to be used as a professional standard for Teachers of the Visually Impaired, and other instructors of the braille code. This manuscript provides a brief review of the history, explanation of the test content and format, current data on test candidates, and information for individuals interested in taking the exam.
Ongoing Research Projects of the PDRIB:
Social Responsibility about Blindness Scale (SRBS). The Social Responsibility about Blindness Scale (SRBS) is a 20 item, multidimensional measure of attitudes about blindness. The scale is conceptualized to consist of the two dimensions of attitudes (1) attitudes, which are context-free generalized value statements; and (2) expectations, which are context-specific prediction of behavioral outcomes (Millington, Leierer, and Abadie, 2000). Items reflect attitudinal statements (e.g., Being totally blind is worse than being visually impaired) as well as specific expectations (e.g., I believe that someone who is blind could be a good elementary school teacher). The SRBS has been used in several studies with youth who are blind/visually impaired, and was demonstrated to have good internal consistency. The scale is currently under consideration for publication (Bell, 2008).

For more information on ongoing or published research, please e-mail Dr. Edward Bell at ebell@latech.edu.
LOOKS AT BOOKS: CRITICAL CONCERNS IN BLINDNESS SERIES
The Institute on Blindness has established a "Critical Concerns in Blindness" book series to provide in-depth knowledge to the field of education and rehabilitation of individuals who are blind or visually impaired. These writings are based on the knowledge and experiences of successful persons who are blind.
Freedom for the Blind: The Secret is Empowerment
Author James Omvig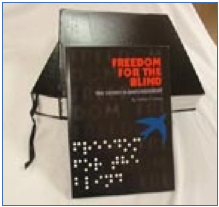 Freedom for the Blind: The Secret is Empowerment. Fayetteville, AR: University of Arkansas Press, 2002.
The author, James Omvig, brings together the best of rehabilitation practice with the wisdom and experience of countless blind people who, through their own lives, faced and overcame the social and economic barriers arising from myths and misunderstanding about blindness. His book speaks eloquently to the point that, the renaissance in rehabilitation of the blind is not the product of our technology nor of our science, but rather emerged out of the collective will of tens of thousands of blind people to live full, normal, productive lives. ~ Dr. Fredric K. Schroeder, Former Commissioner - Rehabilitation Services Administration - U.S. Department of Education, 2002, p.11.
About the Author: James H. (Jim) Omvig
James Omvig is a blind attorney and rehabilitation professional from Tucson, Arizona. Before his retirement, he spent the major part of his professional career in work with the blind, and he continues to do consulting, evaluating, writing and teaching in this field today.
Eight years of idleness followed Jim's high school graduation. Then, in 1961, Jim became one of the early students in the Adult Orientation and Adjustment Center newly created and directed by Dr. Kenneth Jernigan at the Iowa State Commission for the Blind. He went on to complete college and law school, and then he worked in Washington, D.C. and New York City as the first blind attorney ever hired by the National Labor Relations Board (NLRB).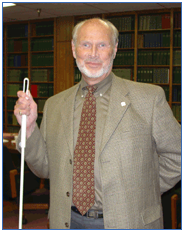 Following his successful legal career with the NLRB, Jim changed careers and entered the field of work with the blind professionally. He directed the residential Orientation and Adjustment Center operated by the Iowa Commission for the Blind and served as that agency's Assistant Director; established and directed a program created by the Social Security Administration (SSA) in Baltimore, Maryland, to develop greater employment opportunities for the blind and disabled within SSA itself. Finally, he directed the Alaska Center for Blind and Deaf Adults, before retiring to Tucson.
Jim is also a well-rounded family man who, in addition to his working career, has been heavily involved for a lifetime in church, civic, political and advocacy activities wherever he has lived. He has also provided staff training and development programs and performed evaluations for numerous schools and private and state agencies for the blind around the country. Perhaps, most significantly, he has been an active participant along with other blind people in the organized blind movement for nearly forty years.
To find out more information about this book or to see a complete list of books in the Critical Concerns in Blindness Series, please visit our website here.
ALUMNI ANNOUNCEMENTS
Dr. Ruby Ryles, Coordinator of the TBS program, welcomed her first grandbaby, Leif Kristof Wilson Lenk on January 22, 2011 weighing in at 6 pounds, 15 ounces. Dr. Ryles is pretty smitten with Leif (pronounced: Layf)!
Deja Powell, NOMC and Program's Manager at the PDRIB, and Lucas Atkinson Louisiana Tech University Grad student, were married in Salt Lake City, Utah on March 4, 2011.
Lou Ann Blake, J.D., HAVA Project Manager and Law Symposium Coordinator in the Jacobus tenBroek Library at the Jernigan Institute and, Maurice Peret, NOMCT Rehabilitation Trainer – Senior Services, Blind Industries & Services of Maryland, are engaged to be married on July 11, 2011.
Amber Holladay, NCLB, and husband Chase welcomed a beautiful baby girl, Jorgia Kaylee Holladay to the family on January 4, 2011 at 1:03 p.m. She was 6 pounds, 8 ounces and 18.25 inches long and super cute.
Jennifer Kennedy, NOMC and Daniel Ashman, NCLB, who both currently reside in Richmond, Virginia, are engaged to be married and a wedding date has been set for April 28, 2012 in Richmond.
Jerry Nealey, NOMC obtained a job working as a Rehabilitation Counselor at the Division of Services for the Blind and Visually Impaired in Ogden, Utah.
**What important life events are going on in your lives now? Please email me, dpowell@latech.edu, with BIG news happening in your life. Engagement, marriage, baby, graduation, new job? Let us know - we want to hear all about it!
SLATE IT ON YOUR CALENDAR
April 7-9, 2011: ABC Conference, Shreveport, LA.
April 8-10, 2011: NFB of Louisiana State Convention, Shreveport, LA.
July 3, 2011: Structured Discovery: The History, the Legacy, and The Future! Rosen Shingle Creek Hotel Orlando, Florida. Cost: $100.00. Registration Deadline: June 30, 2011. Go directly to the registration page by clicking here.
July 3-July 8, 2011: National Federation of the Blind (NFB) National Convention, Orlando, Florida Rosen Shingle Creek Resort. To register go to: www.nfb.org/registration.
July 17-23, 2011: NFB Youth Slam, Townson University in Baltimore, Maryland. Please go to www.nfb.org for more details
CONTACT US
We would love to hear from you, please feel free to contact us at any time!
Professional Development and Research Institute on Blindness
PO Box 3158
100 Wisteria 210 Woodard Hall
Ruston, LA 71272
Phone: (318) 257-4554
Fax: (318) 257-2259
Website: www.pdrib.com
Editor email: dpowell@latech.edu



You can also find us on Facebook!
Go to this Facebook Link or search for Professional Development and Research Institute on Blindness in Facebook Search. Or join a group connected to the institute:
NCLB Group
NOMC Group

You can also follow us on Twitter!
Username: PDRIB