The PDRIB POST - Winter 2011
The PDRIB Post, the Official Newsletter of the Professional Development and Research Institute on Blindness
The mission of the Professional Development and Research Institute on Blindness is to provide leadership in creating programs, preparing professionals and conducting research that empower blind individuals not only to live independently, but also to participate fully in society.
Winter 2011
The Director's Dish
Figure 1: Eddie Bell and daughter Samantha on a swing.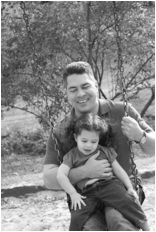 I love this time of year and am excited about all that it brings. Just this passed weekend I put up our Christmas lights outside with the help of my two elves, Victoria and Samantha, who provided far more help and comic relief than was really necessary. Yesterday, we put up our Christmas tree, and like every year, it was a National-Lampoon's event trying to get it straight and secure—me turning the screws at the base while being directed by all the females in the house as to which way to adjust it. For me, however, the joy and memories of engaging in such activities with one's family is priceless.
As we, the staff of PDRIB, draw activities to a close for the year, it is always wise to reflect back on what we have accomplished to date, rejoice in our successes, mull over our setbacks, and look forward to the challenges and opportunities that 2012 will bring. Although it may sound like a cliché, during this time of year, I relish the opportunity to sit by a cozy fire and engage in quiet introspection, thanksgiving, and recommitment to family and friends. The Institute family also has much to be thankful for, much to be excited about, and tremendous appreciation for the caring and dedication of those with whom we work on a daily bases.
You will read more in this edition about the newest member to the PDRIB family, Laura Bostick, who is joining the TBS team. This year we celebrated the marriages of Deja Powell and Lucas Atkinson; the recent wedding of Dianne Seilhan to Michael Reed; and the birth of Dr. Ruby Ryles grandson, Leif. We are a family here at the PDRIB, and we rejoice in these special events with our students, graduates, friends and colleagues. After all, it is the opportunity to share in another's life in a personal way that makes getting up in the morning worthwhile. Congratulations to all of them and to all of you who have also celebrated such special events this year.
The PDRIB is continuing to grow and prosper. Our graduate programs in O&M and TBS remain strong and vibrant. The numbers of professionals who have earned NOMC and NCLB certification continue to grow at a steady rate. We have increased our direct service to young blind children in several local parishes, and increased our instruction to adults in Alabama. We have participated in numerous conferences, made countless presentations, afforded valuable trainings, and provided technical support to hundreds of individuals. We have also hosted the 7th Annual ABCs of Blindness Conference, the 10th Annual Rehabilitation/O&M conference, and the first annual Louisiana Teacher Training Conference.
Our efforts in research have intensified and we have just completed one of the largest field-based studies in the area of rehabilitation and employment for the blind in history, and we look forward to the results of those data in early 2012. We continue our work with the National Federation of the Blind on the National Reading Media Assessment (NRMA), where we just presented data on its third validation study at the Getting in Touch with Literacy Conference. Our work on the National Orientation and Mobility Assessment (NOMA) is ongoing and will be finished in 2012. A number of our professional articles have appeared in the Journal of Blindness Innovation and Research and other professional publications.
Aristotle was quoted as saying, "We are what we repeatedly do. Excellence, then, is not an act, but a habit." We, at the PDRIB, come to work every day ready to tackle the many emails, the phone calls, the requests for information, the classes we offer, the data needing to be analyzed, the conferences requiring planning, and the myriad other activities that comprise our work day. It brings me pride and satisfaction to reflect back over 2011 and to be proud of what we have achieved. Already, 2012 is shaping up to be bigger and more challenging than ever before. Happy Holidays to all of you and I hope you enjoy reading this edition of the Post as much as we enjoyed the activities that have brought it to fruition.
Inside the Institute
Institute Welcomes New Faculty
In October, the PDRIB welcomed Laura Bostick as a new staff member at the Institute. She and her daughter, Lindsay, who is in the third grade, are from Houston, Texas.
Laura Bostick, M.Ed.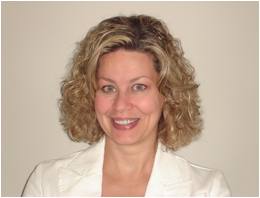 Photo: Laura Bostick
Laura Bostick, M.Ed., is an advocate, parent trainer, speaker, and writer. She is the president of the National Organization of Parents of Blind Children (NOPBC), the parent division of the National Federation of the Blind.
Laura studied biomedical engineering at Texas A&M University and worked for over 17 years at Johnson Space Center in the human space flight area. She first considered changing careers when her daughter was born blind in 2002, and she needed to learn to navigate the special education maze. Her experiences with her own daughter's education, as well as her work with the many other families she met through her involvement with parent organizations, sparked her interest in a career in blindness education. Laura returned to school in 2008, completed her student teaching in the fall of 2010 in an elementary school life skills class, and received her master's degree in special education in December 2010. She is certified to teach K-12 special education.
In her work as the founding president of Texas Parents of Blind Children (TPOBC) and as president of the National Organization of Parents of Blind Children (NOPBC), Laura has written articles, made presentations at state and national conventions, developed and conducted educational programs and training for parents and youth, and consulted on legislation regarding blindness issues.
Laura is now an instructor at the Professional Development and Research Institute on Blindness.
Working with Blind Kids, a New Direction
The PDRIB has always been focused on training professionals in the blindness field to be the best teachers and leaders in the field. Very recently, the PDRIB has expanded beyond its training of professionals. Now two graduates of the O&M program and both certified NOMCs, have begun working with blind and visually impaired students in the local school systems in North Louisiana, Alabama and other parts of the country.
In Ruston, Louisiana where the Institute is housed, blind children in the area are, for the first time, receiving bi-weekly O&M services. Seven children in Ruston now walk around with a long-white cane and are learning the skills of blindness at an early age. Much like the principles taught through the PDRIB to future professionals, these skills and attitudes are being passed on to a population in much need of quality O&M services.
For the first time, students in the O&M program at Louisiana Tech are receiving one-on-one, hands-on training with blind kids. They are observing, apprenticing and even interning with blind kids in the local public school system. While O&M Master's students have always worked some hours with children in the Louisiana Center for the Blind's summer youth programs, they now have another opportunity for experience in a public school setting to better prepare them for their work in the field.
Along with the work of the PDRIB, the Louisiana Center for the Blind (LCB) has helped to bring together local blind kids and their parents. Each month teachers of the blind, their students, and parents from two North Louisiana school districts get together for Saturday School. This is an opportunity for blind youth to get together with their teachers and families to participate in a variety of educational and exciting activities. Some Saturday Schools have included baking, science experiments, O&M games, Braille reading and writing, craft projects, pumpkin carving and much more.
The PDRIB and LCB recently held its first ever joint Christmas Celebration Saturday School. Local students, their parents, siblings, and friends got to participate in a fun-filled day. Students got to take part in sugar cookie cutting, baking and decorating. They also made salt dough and photo frame ornaments, made candy canes and icicles with beads, wrote braille letters to Santa, and enjoyed personal pizzas for lunch.
Perhaps the highlight of the event was a visit from Santa Claus himself. The kids were thrilled to see that Santa, too, had a cane and reads braille. He was able to read each of their letters/wish lists they had written for him in braille. Santa also surprised us with a reading of, "Twas the Night Before Christmas," which he also read in braille.
Below are pictures from our recent Saturday School, Deck the Halls with Braille and Canes event.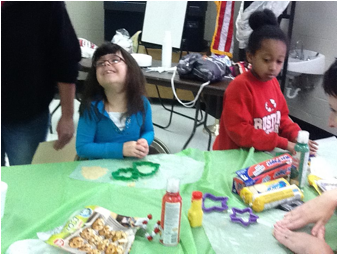 Photo: Two students are rolling out dough and using various holiday cookie cutters to cut out shapes. The cookies were then baked and then loaded with icing, the kids' favorite part.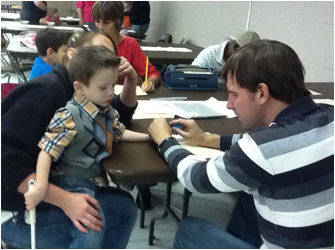 Photo: Preschooler, Jordan sits down to write a letter in braille to Santa Claus with the help of Mike Harvey, current O&M and TBS student.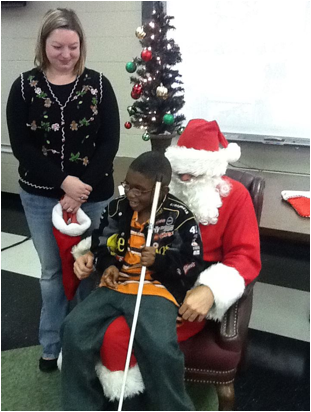 Photo: First grader, Braylon, with his cane, sits on Santa's lap to give him his wish list. With Santa's helper, Kristen Sims, teacher of the blind standing by if Santa needs assistance.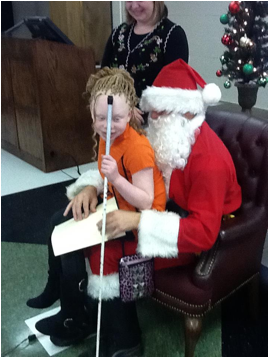 Photo 4: Second grader Rekendra sits on Santa's lap while he reads her brailled Christmas wish list.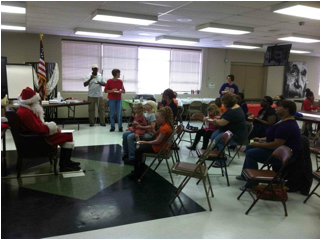 Photo 5: Everyone sitting around Santa listening to him read, "Twas the Night Before Christmas" in braille.
The PDRIB looks forward to reaching out to even more blind kids in the future. It has always been a part of our mission to develop the best professionals in the blindness field. With a relationship with local school districts and local blind kids we feel we will only prepare our graduates better in working with blind and visually impaired children.
Louisiana Tech University Graduates
Congratulations to our latest students who graduated with their Master's Degrees in August 2011 from Louisiana Tech University:
Aaron Fallon, MA, NCLB, TBS Program
Jedi Moerke, MA, NOMC, O&M Program
Looks at Books
A look at books and authors that have, and continue to, impact the field of blindness.
Independent Movement and Travel in Blind Children: A Promotion Model
By: Joseph Cutter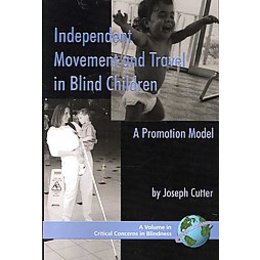 Photo: Independent Movement and Travel in Blind Children, book cover.
The purpose of this book is to contribute to our understanding of developmental orientation and mobility (O&M), independent movement and travel in blind children. Unlike many books and articles on orientation and mobility for blind children, this one is not about the effect of blindness on movement. Such an inquiry is self-defeating from the start, as it often begins with misconceptions and deficit-thinking about blindness and the blind child's early motor development. Instead, this book is about the effect of movement on development and the importance of movement experiences for the development of independent movement and travel in blind children. It has a clear premise: blind children must become "active movers" if they are to become independent "travelers."
NBPCB NEWS
New NOMC Certificants
New NCLB Certificants
Karen DiDominico, White Hall, Maryland
Martha Harris, Ruston, Louisiana
Tammy Macziewski, Elk River, Minnesota
Susan Mattson, Austin, Texas
Sharon Monthei, Minneapolis, Minnesota
Serena Olson, Union City, California
Adam Rushforth, Orem, Utah
Sarah Savell, Many, Louisiana
Judy Wilkinson, San Leandro, California
Vita Zavoli, San Leandro, California
Upcoming NCLB Test Dates:
January 11, 2012
Woodard Hall 210, Louisiana Tech University Campus
Ruston, LA
Cost: $250.00
Deadline: January 3, 2012
Apply Now
January 27, 2012
National Federation of the Blind Jernigan Institute, 200 East Wells Street at Jernigan Place, Baltimore, MD 21230
Baltimore, MD
Cost: $250.00
Deadline: January 13, 2012
Apply Now
February 11, 2012
210 Woodard Hall, Louisiana Tech Campus
Ruston, LA
Cost: $250.00
Deadline: February 2, 2012
Apply Now
March 10, 2012
210 Woodard Hall, Louisiana Tech University
Ruston, LA
Cost: $250.00
Deadline: March 2, 2012
Apply Now
April 7, 2012
210 Woodard Hall, Louisiana Tech University
Ruston, LA
Cost: $250.00
Deadline: March 30, 2012
Apply Now
May 12, 2012
210 Woodard Hall, Louisiana Tech University
Ruston, LA
Cost: $250.00
Deadline: May 4, 2012
Apply Now
June 9, 2012
210 Woodard Hall, Louisiana Tech University
Ruston, LA
Cost: $250.00
Deadline: June 1, 2012
Apply Now
*Check back often at www.nbpcb.org/nclb for announcements of new test dates and locations.
The NCLB Limelight: Jan Lavine
Jan Lavine currently holds the National Certification in Literary Braille certification and is a teacher of the blind and a braille transcriber. She recently won the Braille Student of the Year Award presented by the Hadley School for the Blind. Below is the press release from that award.
Stillwater Resident Wins Award from The Hadley School for the Blind
On October 20, Jan Lavine of Stillwater, Oklahoma received the 2011 Braille Student of the Year Award from The Hadley School for the Blind, a distance education school based in Winnetka, Ill. The award was presented to her at Hadley's Annual Meeting. Lavine wins this award for her passion and dedication to learning braille. Hadley has formally presented student awards for more than 50 years.

In 2006, Lavine lost her vision due to pigment epithelial detachment (PED), a manifestation of neovascular (wet) age-related macular degeneration (AMD) that causes progressive visual loss. Lavine has taken eight braille courses through Hadley in addition to several others including "Independent Living," "Effective Listening," and "Safety in the Home."

"Prior to losing my vision in 2006, I had no exposure to blindness or braille. Now, braille has become my everything. My braille instruction has enabled me to read wherever I am. With braille, I can read while reclined in the dentist's chair or in a dark concert hall, something a print reader cannot do," says Lavine.

Lavine volunteers as a braille transcriber for Fire Protection Publications and as a braille instructor for the Edmond, Oklahoma Chapter of the National Federation of the Blind. She is also an annual reader for the "Read Across America" program. Her other interests include cooking and home improvement.
The NOMC Limelight: Maurice Peret
Maurice Scott Peret, NOMCT currently works as a Rehabilitation Trainer for Senior Services at Blind Industries & Services of Maryland (BISM) in Baltimore.
Peret has been National Orientation & Mobility Certified (NOMC) since October, 2002 and has served on the National O&M Certification & Training (NOMCT) committee since 2005.
His prior employment bestowed Peret with the distinction of having been the first certified blind O&M professional hired by the Commonwealth of Virginia in 2004.
He also served as Program Manager for NFB-NEWSLINE®, the world's first free digitized talking newspaper service created by the blind to offer blind and otherwise print disabled people the complete text of over 300 national and local newspapers and magazines via telephone or other digital device.
Ten years ago he participated in the 2001 National Federation of the Blind MT Everest expedition as NFB Base Camp Communications Manager, which featured Erik Weihenmayer, the first blind man ever to have scaled, not only the highest point on earth, but also the youngest to have reached those on each of the seven continents. It was that experience which inspired him to push beyond his own comfort zone to realize the exhilaration that Erik and his team must have felt at the top of the world.
Peret had the distinct honor to participate in the Face of America 2003 international bicycle ride from New York City to Washington, D.C., sponsored by World T.E.A.M. Sports, to honor the thousands of lives tragically lost on September 11, 2001.
Peret began his career in January of 1999 when he was hired to teach nonvisual computer access technology to blind adults at BISM. He went on to teach cane travel and worked both at the Center and as an itinerate instructor in the community as Rehabilitation Outreach Coordinator. He has presented on a variety of related topics at numerous professional conferences including at Association for Education and Rehabilitation of the Blind and Visually Impaired (AER) Maryland chapter, National Council of State Agencies serving the Blind (NCSAB), and at numerous seminars and workshops on Blindness and Vision Impairment. Mr. Peret has participated on planning committees for Conferences on Visual Impairments and Blindness.
Peret is a committed and passionate advocate for the blind and constantly seeks to find creative ways to improve rehabilitation and education services to all blind and low vision people through continued professional development.
LIFE NEWS
James Konechne, NCLB and NCLB TA, got engaged to NFB member Beth Albury, of the Bahamas, in October. There is no date or location yet but the couple is excited for the big day.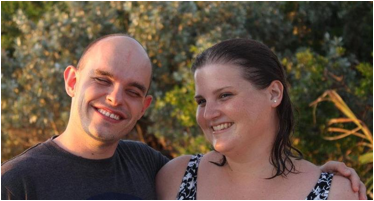 Photo: James Konechne and fiance Beth Albury
Dezman Jackson, NOMC, just started as the Youth Programs Coordinator at Blind Industries and Services of Maryland.
Dianne (Seilhan) Reed and Michael Reed, were married on November 18, 2011 in Jonesboro, Louisiana.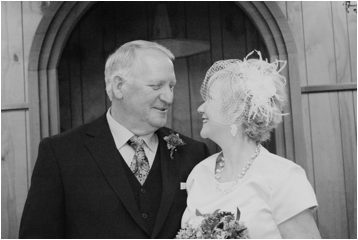 Photo: Dianne and Michael share a romantic glance at their beautiful fall wedding.
Slate the Date
March 15-18, 2012

CTEBVI 53rd Annual Conference (California Transcribers & Educators for the Blind & Visually Impaired) (was CTEVH)
Los Angeles Airport Marriott in Los Angeles, CA
June 30-July 4, 2012

National Federation of the Blind National Convention
Hilton Anatole Hotel
2201 North Stemmons Freeway
Dallas, Texas 75207
July 8-14, 2012

American Council of the Blind National Convention
Galt House Hotel
Louisville, Kentucky
HAPPY HOLIDAYS FROM ALL OF Us AT THE PDRIB!
MAY THE NEW YEAR BRING YOU MUCH HAPPINESS AND JOY!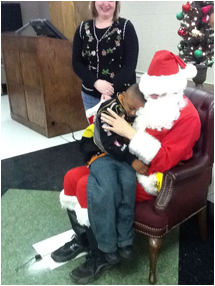 Contact Us
We would love to hear from you, please feel free to contact us at any time!
Professional Development and Research Institute on Blindness
PO Box 3158
100 Wisteria 210 Woodard Hall
Ruston, LA 71272
Phone: (318) 257-4554
Fax: (318) 257-2259
Website: www.pdrib.com
Editor email: dpowell@latech.edu
You can also find us on Facebook!
Go to this Facebook Link or search for Professional Development and Research Institute on Blindness in Facebook Search.