April 2012 – Spring Edition
The PDRIB Post, the Official Newsletter of the Professional Development and Research Institute on Blindness
The mission of the Professional Development and Research Institute on Blindness is to provide leadership in creating programs, preparing professionals and conducting research that empower blind individuals not only to live independently, but also to participate fully in society.
The Director's Dish
Welcome to the Spring edition of the PDRIB Post, the official news bulletin of the Professional Development and Research Institute on Blindness. A great deal has already transpired this year, and we are excited about the events that are coming up as well.
We continue to make an impact through our professional development activities. In February, two more students in the TBS program graduated and are now entering the workforce.
Another ten students continue striving to obtain their education and certifications, and we know that they will be successful in those endeavors.
We are currently taking applications for Summer and Fall 2012 enrollment. Obtaining a degree in Orientation and Mobility and/or Teaching Blind Students is a very laudable accomplishment, and one that can open the doors of employment for you across the country. If you are interested in a degree from Louisiana Tech University, give us a call, or just come on by. Please also pass this information on to other people who you think might make a good addition to the profession of individuals whose career goal it is to improve the lives of children and adults who are blind.
In the area of continuing education and certification we continue to make progress. In January, ten Louisiana Tech students and four staff participated in the first ever Teacher Leadership Seminar, which was held at the National Federation of the Blind headquarters in Baltimore. Not only were Louisiana Tech students present at the conference, but our current students and alumni were a powerful force in the delivery of the conference content—demonstrating the reach and impact of the programs at Louisiana Tech University.
In just the past three months alone, staff and students of the Institute on Blindness have presented at multiple national training workshops, at one international conference on orientation and mobility, and have been instrumental in the delivering of services to youth and adults. Nearly each month, increasing numbers of individuals are earning their National Orientation and Mobility Certifications (NOMC), their National Certification in Literary Braille (NCLB), and the number and scope of individuals seeking to be credentialed is at an all-time high.
Our research efforts continue strong as well. Last spring and summer, more than 1,000 adults who are blind or visually impaired participated in the Adult Rehabilitation and Employment Survey. This survey, the largest single field study of members of this population in decades, promises to shed light on current employment statistics, as well as education and rehabilitation trends that support increased employment outcomes. The data analysis is nearly complete, and so be looking for the results to be presented at a training conference near you.
We have just completed reliability and validity studies on the National Reading media Assessment (NRMA). The results support the efficacy of this instrument for assessing the current and future needs of youth with visual impairments. The assessment and supporting materials are currently being developed into an interactive online delivery platform and we hope to announce the launch of this during our next post.
In the past 12 months, more than five peer-reviewed articles on the topics of rehabilitation, orientation and mobility, and attitudes about blindness which have been written by our staff and alumni have been published in the Journal of Blindness Innovation and Research. If you are not already a subscriber, I strongly encourage you to sign up as a reader, author, and reviewer free of charge. Visit www.nfb-jbir.org for more information.
In closing, I would like to leave you with this thought. Gandhi said "You may never know what results come of your action, but if you do nothing there will be no result." Each year there are increasing numbers of current students, alumni, and colleagues of the Institute on Blindness who are playing major leadership roles in professional workshops and conferences, obtaining high quality jobs at all levels of education and rehabilitation, and influencing policy makers and administrators. Quotes from famous people are always inspiring, but they are all the more powerful when their wisdom becomes evident in our day to day work.
Good luck to all of you as we move through the spring and into the summer, and I look forward to the next opportunity to share our successes with you.
Inside the Institute
T-Shirts that Promote Independence for the Blind on Sale for $10.
We are happy to offer you two T-Shirts that are designed to promote independence for the blind in a fun and moving way at a hugely discounted price!

The descriptions, picture, and order information for both are listed below.
For more information, you can call Edward Bell or Dianne Reed at 318-257-4554 or e-mail dreed@latech.edu.

Use More Canes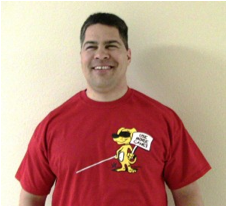 This shirt, reminiscent of the Chick-Fil-A ® Cow, is a Red, short sleeve T-shirt with a graphic cartoon of a cute yellow dog standing up on hind legs. The dog is wearing a blindfold and holding a long white cane in his right paw. He is holding a white sign that says in black letters "Use More Canes" in his left paw.

Priceless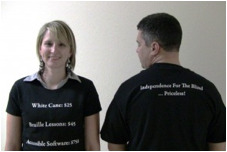 This shirt, touting the importance of independence that cannot be captured at any cost, is a black short sleeve T-shirt with white lettering.

The front of the shirt has a printed list which says: "White Cane: $25 Braille Lessons: $45 Accessible Software: $750"
The back of the shirt says: "Independence for the Blind… Priceless!"
All shirts are $10.00 each
Sizes are: Adult: small, medium, large, XL; Ladies fitted: medium, and large;
Youth: small, medium and large
(All sizes available only while supplies last – no reorders)

We have two options for you to purchase:
Option 1:
To place an order by e-mail or phone, send an email to dreed@latech.edu, or call 318-257-4554. Make sure to include the type of shirt, size and quantity, your mailing address, and contact information.
Make checks payable to Gemini Research and Training, 1500 West Barnett Springs Avenue, Ruston, LA 71270 if ordering by phone. Call 318-257-4554.
Include $5.00 shipping for 1 shirt, $10.00 for 2-4, $15.00 for 5-10 shirts—speak with a representative for larger order.
Option 2: Go to our website: http://www.gemini-rt.com/?page_id=37
Revitalizing Research
Journal of Blindness Innovation and Research Seeks Submissions
On behalf of our editorial team, the National Federation of the Blind would like to extend to you a special invitation to publish in the Journal of Blindness Innovation and Research – our open-access publication, online-only professional journal.

JBIR publishes peer-reviewed, original research and review articles in an interactive, open-access format. Published articles deal with all aspects of blindness other than the medical. Find out more at www.nfb-jbir.org.

Why publish in JBIR?
Quick review and decision times for authors
Speedy, continuous-publication online format
Global distribution of your research, including enhanced online features such as: public usage metrics, comments features, subject categories, and article ranking and recommendations
Professional copyediting and typesetting of your article
No cost to authors or subscribers
Consider publishing in JBIR if you want your article to receive:
Quality reviews and efficient production, ensuring the quickest publication time
Free, broad, and global distribution
Active discussion about your work in online comments from readers of the journal
Branding and marketing by the largest membership organization of blind people in the United States
Manuscript submissions will be handled online through http://www.nfb-jbir.org. Interested authors will need to create a free account in order to access the manuscript submission process. When creating your account, we would also encourage you to consider checking the box to be one of our peer reviewers. To learn more about the JBIR submission policies, please visit our page for authors at http://www.nfbjbir.org/index.php/JBIR/information/authors.

We appreciate your continued work in the field. If you have questions about the Journal of Blindness Innovation and Research, please send an e-mail to editors@nfb-jbir.org. You may also feel free to write or call me directly. Thank you for your consideration of this request.
Louisiana Tech University Graduates
Congratulations to our recent graduates!
Conchita Hernandez, MAT, NCLB
Michael Harvey, MAT, NCLB, NOMC
Looks at Books
*A looks at books from the Critical Concerns in Blindness Series.
We Know Who We Are: A History of the Blind in Challenging Educational and Socially Constructed Policies, Ferguson, Ronald. San Francisco: Caddo Gap Press, 2001.
A goal in writing this book has been to write a history, from the perspective of the organized blind, of their struggle against discrimination as the result of educational and social policies created by professional sin the blindness field. Although there are a number of histories dealing with the education of the blind, these were primarily written by people who worked within the blindness system and/or were sympathetic to its interests. This book was an attempt to provide a different perspective in order to show the conflicts the organized blind encountered with the professional culture of the blindness system and their efforts to create educational policies for the blind instead of in conjunction with the blind (pp 196-197).
To order We Know Who We Are: A History of the Blind in Challenging Educational and Socially Constructed Policies, go to www.pdrib.com.
Life News and Views
Anna Clara Gayle, TVI has been selected as the Louisiana School for the Visually Impaired's Teacher of the Year for 2012. She will be competing on the regional level in the upcoming week. This is Ms. Gayle's fifth year with the school as the Art Instructor and middle school English teacher. Ms. Gayle is working on a twin vision children's book as well as working on the tactile illustrations. Ms. Gayle has 24 years in the Louisiana teaching system and seeks to be an agent for her students, promoting their art and literary endeavors. In the last 5 years, the students at LSVI have been awarded literary awards from NFB and recognized nationally with APH's InSights art contest, a state-wide exhibit at NOMA in New Orleans, and student winners in the 6th congressional district art contest where their work was viewed in Washington, D.C. for a year. In December of 2011, Ms. Gayle presented a paper proving the increased rate of comprehension for below-level readers when art is used to enhance the reading experience at the "Getting in Touch with Literacy" conference held in Louisville, Kentucky.
Casey Robertson, NCLB is a teacher of the blind is Mississippi. She recently passed the National Certification in Literary Braille exam and is now certified. She also introduced a bill, HB 960, to better services for blind students is the state of Mississippi. It passed the House of Representatives on March 15, 2012 and awaits Senate passing. Ms. Robertson was the 2011 NFB of Mississippi Distinguished Teacher of the year.
Certification Central: News from the NBPCB
New NCLB Certificants
Casey Robertson, Mississippi
Donna Brostek Lee, Kentucky
Judy Matsuoka, Arkansas
Treva Olivero, Louisiana
Sheena Manuel, Louisiana
Robert Martin Pardue, Louisian
Upcoming NCLB Test Dates:
*To register for any of the below tests, please got to www.nbpcb.org/nclb.
April 28, 2012
Los Angeles, California
Empower Tech
9100 South Sepulveda Suite #204
Test Administrator: Kia Vaca, kiavaca@gmail.com
Registration Deadline: April 14, 2012
May 12, 2012
Ruston, Louisiana
208 Woodard Hall
Test Administrator: Deja Powell, dpowell@latech.edu
Registration Deadline: May 4, 2012
May 19, 2012
Spartanburg, South Carolina
University of South Carolina Upstate,
800 University Way, HEC 2007 (Health Education Complex)
Test Administrator: Tina Herzberg, therzberg@uscupstate.edu
Registration Deadline: May 5, 2012
June 16, 2012
Ruston, Louisiana
208 Woodard Hall
Test Administrator: Deja Powell, dpowell@latech.edu
Registration Deadline: June 9, 2012
Upcoming NOMC Test Dates
October 1, 2012
NOMC Recertification
Ruston, Louisiana
Contact: Edward Bell, ebell@latech.edu
The NCLB Limelight: Krystal Guillory, MA, NCLB
My name is Krystal Guillory and I am a proud resident of Ruston, Louisiana where I live with my husband, Eric (the Director of Youth Services with the Louisiana Center for the Blind) and our two wonderful children—Austin, six, and Brilyn, three. We have been in Ruston since May of 2007; I love the family-oriented nature of our town and am appreciative of the wonderful friends we've made in north Louisiana. The time I get to spend with friends and loved ones is often in short supply and is therefore priceless. I also enjoy capturing memories through scrapbooking and photography.
I am currently an itinerant teacher of blind and visually impaired students in Ouachita Parish and serve as an early interventionist with the Louisiana Center. I am also privileged to work periodically as a consultant to the STEP and Buddy Programs administered by the Center. These opportunities are extremely rewarding and challenge me to grow in many ways, ultimately benefitting not only my students, but my family and me also.
I got my start in the blindness field as a secondary English language arts instructor at the Louisiana School for the Visually Impaired in Baton Rouge. Though I've always had a passion for the content, I never dreamed I would have the opportunity to combine it with another love of mine—Braille. I am so thankful that in each of the jobs I have held in our dynamic field, I have been able to demonstrate to my students, and, sometimes more challengingly, my colleagues the importance of literacy for all students and to advocate for Braille instruction in a variety of environments
.
In the latter part of 2007, I had the opportunity to take the National Certification in Literary Braille (NCLB) exam. I am a vocal proponent of this assessment of Braille competency as I believe that demonstrated proficiency is a crucial component of the evaluation of teachers of the blind and is sometimes lax. Knowing that I will soon have to renew this pivotal nationally-recognized certification ensures that I work to maintain my knowledge of the code and to continually work on my reading speed.
I am very grateful for all of the blessings providentially bestowed on my family and I. Everyone knows that one does not go into teaching to amass financial wealth. But, the ways in which my life has been enriched far exceed any monetary gain I might have achieved by taking another path. I look forward to many more years of teaching and learning from others and am eternally indebted to those mentors who took the time to shape and guide me, as well as to my students for filling me with the joy of teaching!
The NOMC Limelight: Maurice Peret, NCLB
Maurice Scott Peret, NOMCT currently works as a Rehabilitation Trainer for Senior Services at Blind Industries & Services of Maryland (BISM) in Baltimore.
Peret has been National Orientation & Mobility Certified (NOMC) since October, 2002 and has served on the National O&M Certification & Training (NOMCT) committee since 2005. His prior employment bestowed Peret with the distinction of having been the first certified blind O&M professional hired by the Commonwealth of Virginia in 2004.
He also served as Program Manager for NFB-NEWSLINE®, the world's first free digitized talking newspaper service created by the blind to offer blind and otherwise print disabled people the complete text of over 300 national and local newspapers and magazines via telephone or other digital device.
Ten years ago he participated in the 2001 National Federation of the Blind MT Everest expedition as NFB Base Camp Communications Manager, which featured Erik Weihenmayer, the first blind man ever to have scaled, not only the highest point on earth, but also the youngest to have reached those on each of the seven continents. It was that experience which inspired him to push beyond his own comfort zone to realize the exhilaration that Erik and his team must have felt at the top of the world
.
Peret had the distinct honor to participate in the Face of America 2003 international bicycle ride from New York City to Washington, D.C., sponsored by World T.E.A.M. Sports, to honor the thousands of lives tragically lost on September 11, 2001.
Peret began his career in January of 1999 when he was hired to teach nonvisual computer access technology to blind adults at BISM. He went on to teach cane travel and worked both at the Center and as an itinerate instructor in the community as Rehabilitation Outreach Coordinator. He has presented on a variety of related topics at numerous professional conferences including at Association for Education and Rehabilitation of the Blind and Visually Impaired (AER) Maryland chapter, National Council of State Agencies serving the Blind (NCSAB, and at numerous seminars and workshops on Blindness and Vision Impairment. Mr. Peret has participated on planning committees for Conferences on Visual Impairments and Blindness.
Finally, Peret is a committed and passionate advocate for the blind and constantly seeks to find creative ways to improve rehabilitation and education services to all blind and low vision people through continued professional development.
Slate the Date
April 26-28, 2012, National Braille Association,
Spring 2012 Professional Development Conference
Meet Me in St. Louis…Gateway to the West.
The National Braille Association is pleased to announce that we will be heading to St. Louis, Missouri for our Spring 2012 conference. Known as the Gateway to the West, the Gateway Arch greets visitors to this cultural and historic city! St. Louis boasts of historic and cultural attractions, many of which are free. Get a glimpse of where Lewis and Clark set out on their historic expedition by visiting the Lewis & Clark Boat House and Nature Center, or the Lewis & Clark monument on the Missouri River. Interact with butterflies at the Sophia M Sachs Butterfly House. Roam the Missouri Botanical Garden, a National Historic Landmark with 79 acres of scenic landscaping and elegant structures. Journey to the top of the Gateway Arch, our nation's tallest man-made monument at 630 feet. Relax on a Riverboat cruise; or immerse yourself in a little arts and culture. If you are feeling adventuresome, there is a wealth of attractions to see and experience.
Our host hotel is the Hilton St. Louis Frontenac, a destination synonymous with elegance and comfort. It is steps away from the Plaza Frontenac, with over 50 specialty shops, six restaurants, and a movie theater.
Once again, we are looking forward to our 5-of-5 workshop series. As usual, topics will include but are not limited to literary, textbook and Nemeth format, music, computer-assisted transcription and tactile graphics. Just to pique your interest here are a few of the sessions being developed just for you:
Literary: Proofreading
Tactile Graphics: Guidelines and Formats
Music Braille: Simple Songs to Opera Librettos
Textbook Formats: Overview of Format Changes
**New Formats have been approved by BANA. Be sure to join us to learn about the newest changes!
Register Online!
Registration – On Time March 14-April 6 $175, www.nationalbraille.org.
We look forward to seeing you there!!!
May 9-11, 2012, Training the Trainers: Teaching and Supporting Users of
Access Technology
@National Federation of the Blind
Jernigan Institute
200 E. Wells Street
Baltimore, MD 21230

Technology is in a constant state of flux. New devices, software, and services are being implemented by business and education on what seems like a daily basis. Blind and low vision users need access to these same technologies in order to compete with their sighted peers. Access technology vendors are constantly working to help consumers meet these needs. With the challenges come opportunities for users, and the people who train and support them. This two-and-a-half-day seminar is designed to provide trainers and content creators with the information they need about these powerful tools to ensure that their blind and low vision users can succeed in their endeavors. To meet this goal, the training will provide hands-on involvement with:
• Screen access software
• Braille
• DAISY eBooks
• Tactile graphics creation
• Apple's iDevices
• Mac computers
• Notetakers
• Low vision solutions
• Other tools

Don't miss this opportunity to learn from experts in the access technology field, experience the latest in the industry, and visit the largest showcase of blindness technology in the United States.

The cost of registration is $300. Lunch will be provided. Register online at www.nfb.org. Registration closes on April 15th. Spaces are limited.
Contemporary Issues in Rehabilitation and Education for the Blind
11th ANNUAL REHABILITATION AND ORIENTATION AND MOBILITY CONFERENCE
Saturday June 30, 2010:
Hilton Anatole Hotel
Dallas, Texas
Saturday, June 30, 2012
7:30 am - 5:00 pm
Schedule
7:30 to 8:30 am—Registration;
8:30 am—Conference begins
12:00 noon to 2:00 pm—NBPCB Awards Luncheon
5:00 - 8:00 pm— MIX-AND-MINGLE RECEPTION FOR REHABILITATION PROFESSIONALS
Registration includes lunch and is $75 for students; $100 for Professionals before June 15. After June 15, registration is $85 for students and $125 for professionals.
Go to the following URL to register:
http://www.nbpcb.org/pages/conferences_dates.php
Sponsors:
National Blindness Professional Certification Board (NBPCB); and the Professional Development & Research Institute on Blindness (PDRIB, Louisiana Tech University.
National Federation of the Blind National Convention
June 30—July 5, 2012
Hilton Anatole Hotel
2201 North Stemmons Freeway
Dallas, Texas 75207

Reservations:
Beginning January 1, 2012, write directly to the above address or call (214) 761-7500.
Pre-registration: Pre-registration is now open at www.nfb.org/registration.
When purchased online by May 31st, the pre-registration fee for convention is $25 ($30 on-site), the cost of a banquet ticket is $50 ($60 on-site),
and the cost of the BBQ is $40 ($45 on-site).
The 2012 convention of the National Federation of the Blind will be a truly exciting and memorable event, with an unparalleled program and rededication to the goals and work of our movement. Make plans now to be a part of it. Preconvention seminars for parents of blind children and other groups and set-up of the exhibit hall will take place on Saturday, June 30, and adjournment will be Thursday, July 5, following the banquet. Convention registration and registration packet pick-up for those who registered online will begin on Sunday, July 1, and both Sunday and Monday will be filled with meetings of divisions and committees, including the Monday morning annual meeting, open to all, of the board of directors of the National Federation of the Blind.

General convention sessions will begin on Tuesday, July 3, and continue through the banquet on Thursday, July 5. Note that Wednesday, July 4, will include both morning and afternoon convention sessions. Friday, July 6, will be available for tours for those who enjoy getting to know something about our convention city. To assure yourself a room in the headquarters hotel at convention rates, you must make reservations early. The hotel will be ready to take your call or deal with your written request by January 1.
Saturday, June 30 Seminar Day
Sunday, July 1 Registration Day
Monday, July 2 Board Meeting and Division Day

Tuesday, July 3 Opening Session

Wednesday, July 4 Business Session

Thursday, July 5 Banquet Day and Adjournment
Go to www.nfb.org for more information and to register.
QUOTABLE AND NOTABLE
In honor of Read Across America Day, which was celebrated on March 2nd, Dr. Seuss' Birthday, we thought a good Seuss' quote would be most appropriate. There are so many great ones by the Doctor but this is one of our favorites.

"Unless someone like you cares a whole awful lot, nothing is going to get better. It's not."
A good reminder to keep up the good work on advocating for literacy for blind kids and adults.
Keep caring and keep trying!

Contact Us
We would love to hear from you, please feel free to contact us at any time!
Professional Development and Research Institute on Blindness
PO Box 3158
100 Wisteria 210 Woodard Hall
Ruston, LA 71272
Phone: (318) 257-4554
Fax: (318) 257-2259
Website: www.pdrib.com
Editor email: dpowell@latech.edu
CONNECT WITH US
We are cool so of course we're on Facebook! Be sure to come by and "Like" us at www.facebook.com/pdrib210.
Also join our Facebook Group for the National Certification in Literary Braille for news and updates. Search NCLB.