Overview | Recommended Readings for Children | Common Questions Parents have regarding O&M | Free White Cane Application | Games that Enhance the O&M Experience for Children | Glossary of most common terms | Recommended readings for parents | National Organization of Parents of Blind Children
Orientation and Mobility—An Overview!
Orientation and Mobility is more than a class; it is a skill that will lead your child through life!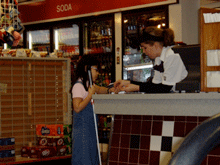 Dear Parent/Guardian,
This site is to assist with questions you may have regarding the use of the long white cane, the purpose of the cane, and the importance for individuals who are blind, legally blind or partially sighted to use the cane. The goal of this site is to help you assist your child in obtaining the skills necessary to travel independently where he/she wants to go, when he/she wants to go (providing permission has been granted, of course), and to travel safely. It is always wonderful to observe individuals traveling with confidence.
Orientation and Mobility may seem both simple and complex. What is Orientation and Mobility (O&M) anyway? The word orientation simply means knowing where you are within the environment. Mobility is being able to move (travel) from one location to another in a safe and efficient manner. An O&M instructor teaches individuals the skills necessary to interpret the environmental clues and how to use the long white cane to travel independently. Above are some links to help you enhance your child's independent travel skills so he/she can successfully step forward in life.
The True Story of Owin M.
The True Story of Owin M. by Merry-Noel Chamberlain, MA, NOMCT, TVI. is about a young boy who happens to be blind and wishes to educate the reader in the skills necessary in order to travel independently using the long white cane. The book is intended for individuals of all ages with visual impairments who want to learn more about O&M. This book will capture the reader's interest in learning techniques that will enhance their O&M skills. The True Story of Owin M. is not only to educate the cane user but also to provide information to parents, guardians, classroom teachers, and anyone else interested in learning more about O&M so they can offer support and guidance to those with visual impairments. Also included is Flowers' Blooming, an educational play, by Merry-Noel Chamberlain.
To purchase the book, please visit www.structureddiscovery.org