Braille Activities for Your Children | Braille Activities for Children with Low Vision or Sighted Peers | Braille Books for Children | Braille Made Easy Through Clip Art (PDF) | Braille: Unlocking the Code | Braille Websites for Children | Brailling Signs is Cool to Do | Common Questions Parents Have Regarding Braille | Finger Locations on the Perkins | Free Slate Program | Future Reflections | National Reading Media Assessment (NRMA) | Other Recommended Websites and Apps | Perkins Panda Early Literacy Kit | ReadBooks! Program | Reading Pals Club | Recommended Literature | www.seedlings.org | The Braille Rap Song | The Complete Braille Chart | NEW: Braille Basics Plus | Professional Development and Research Institute on Blindness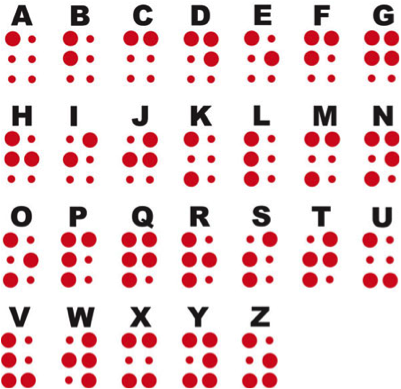 Finding activities for teaching Braille to the very young child (beginning at age three) can be difficult. Listed below are activities from tactual awareness to the beginning of Braille to contracted Braille symbols.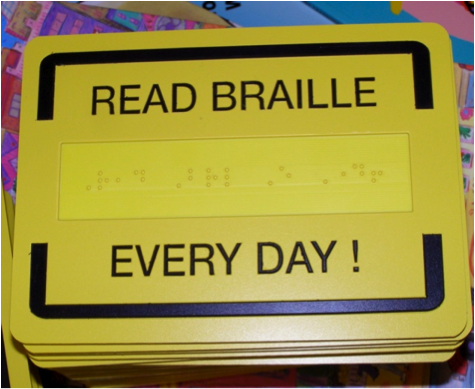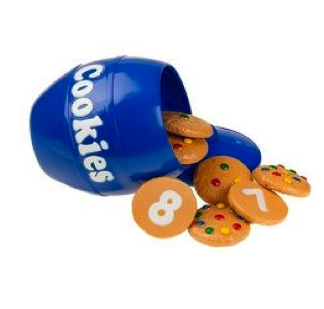 Provide toys which are tactual such as the "SMART SNACK ® COUNTING COOKIES. These tactual cookies (both the numbers and the M&Ms) help students learn to count and recognize numbers. The cookies come in a plastic cookie jar. Fisher-Price MATCHIN' MIDDLES or OREO is a tactual 'memory' game.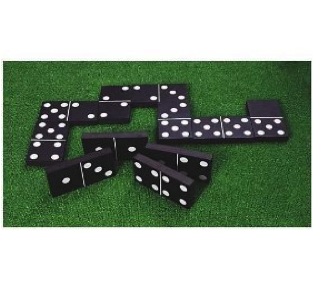 Most DOMINOES are tactual but usually the dots are inverted. However, there are dominos specially made for blind & low vision individuals that have a raised center dividing line which is helpful. Even if children don't know how to play the game, they can be encouraged to match dots to dots and make a train of 'matching' numbers. Stick with six; the higher the number, the harder the dots are to feel. Plus, the "six" is a full cell (Braille for the word "for") and it also introduces the letter 'a' (#1).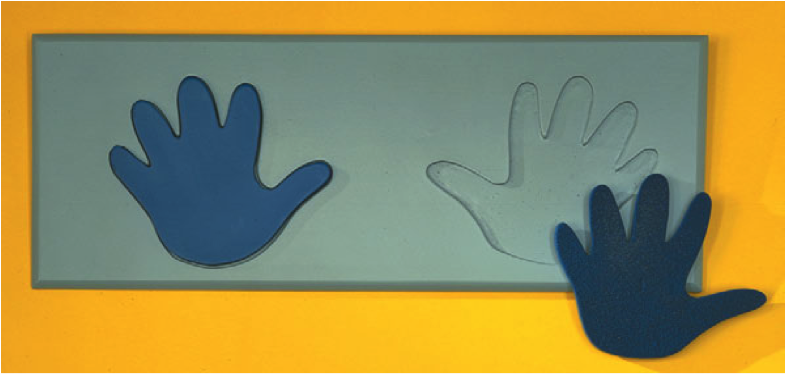 Since the Braille Cell has a left side and a right side, it is important to learn the difference between left and right. This is especially important for students who use a "Uni-Manual Brailler", a Perkins Braille writer for individuals who only have the use of one hand to write Braille. The individual must first select the left side of the Braille keys (dots 1, 2, and/or 3) which remain locked down until the right side of the Braille keys (dots 4, 5, and/or 6) or the space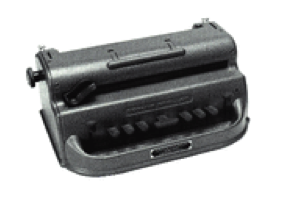 bar is pressed. At which time, the entire Braille letter/contraction is indented on the paper. Should the student make a mistake with the left side, a release button (not shown in picture below) is used to unlock the keys and the student is able to reselect the desired keys.
<~~~Perkins Braille Writer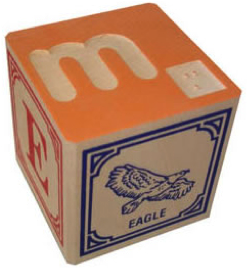 Just as sighted children see print everywhere, blind children need to have access to Braille. The following toys can be purchased in most department stores or off the internet. These are typical toys most children (blind or sighted) enjoy.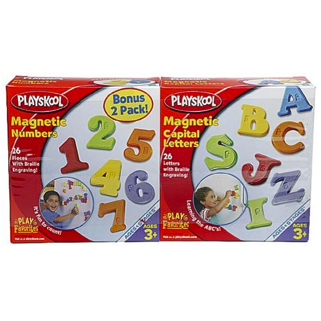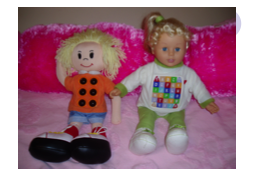 embossed with Braille, Braille ALPABET BLOCKS and the Fisher Price LEARNING SENSATION PLAY with Letters Desk offer opportunities to introduce Braille and all have raised tactual Braille.
is a fun way to introduce Braille letters, too. The dots can be easily pushed in to pop out or pushed in when not needed. ALPHABET ANNIE offers Braille on the front of her shirt. She is an interactive doll.
(Sadly, she is difficult to find.)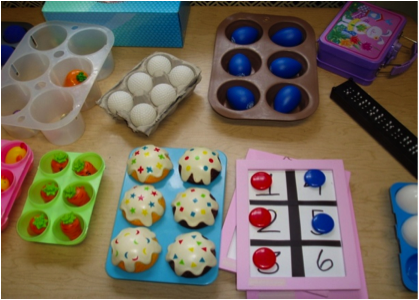 Introduce the "Baille Cell" when playing. Half an egg carton or a 6-count muffin pan is a great way to start. EGG-SHAPE SORTER comes in a toy egg carton, making it the perfect tool for learning about the six-dot configuration of a Braille cell. SMART SNACKS SORTING SHAPES CUPCAKES also offers the Braille Cell. Look around your house and you may have some cells, such as the Jell-O mold seen above. Have a variety of cells then find a variety of things to put in them.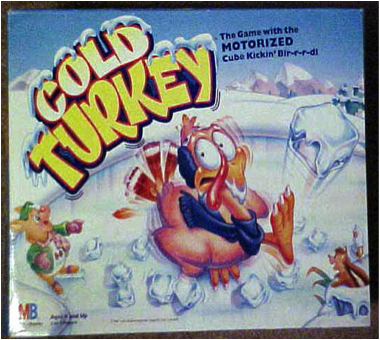 Sometimes games have the best supplies for Braille! This game, COLD TURKEY, comes complete with plastic ice cubes trays in the perfect shape of a Braille cell and ice cube to use to create Braille letters. (This game may be difficult to find. Look in thrift shops.)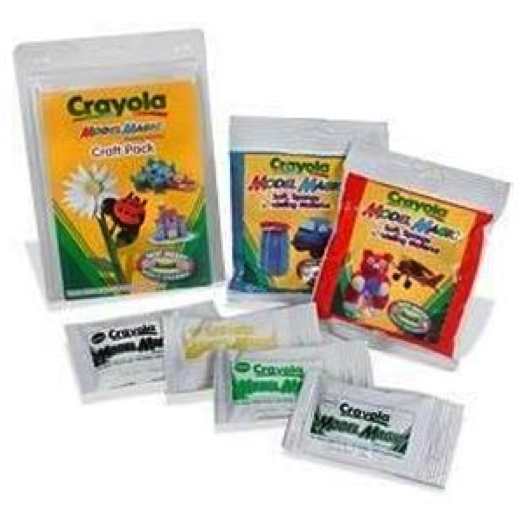 Created by Merry-Noel Chamberlain, MA, TVI
To help create ownership, use Crayola Crafty Play Dough that gets hard - like foam. Together make a Braille cell and little balls (dots) to fit into the cell. Be sure to make little valleys in each cell hole to help contain the ball from rolling out or use a strip of play dough to divide the dots in the cell or both. Make other things with the play dough, too. Use a flat rectangle or square to create a picture and apply little balls to make their name in Braille.
(Don't forget the capital sign!)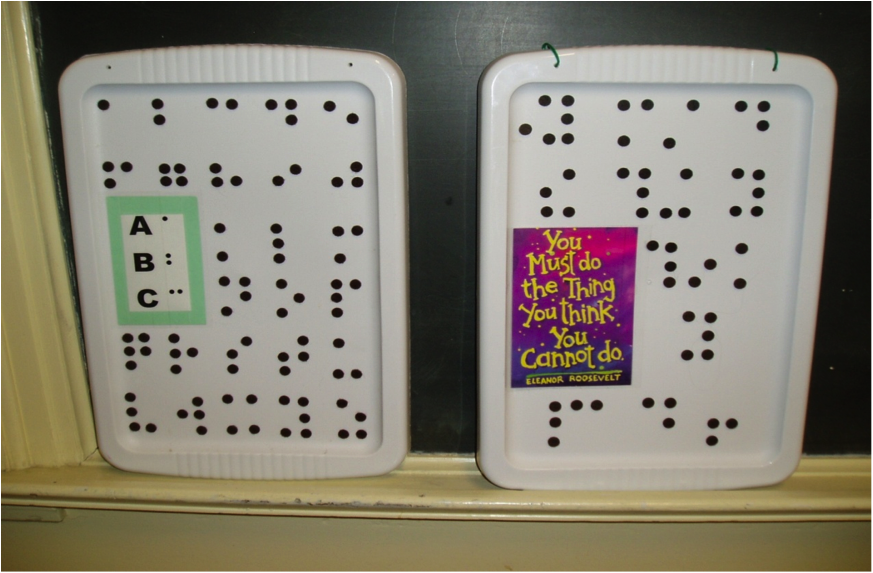 Created by Merry-Noel Chamberlain, MA, TVI
Take a lid to a tote and apply furniture felt tabs to create tactual signs as shown below. Cut two holes in the top to hang them, if desired.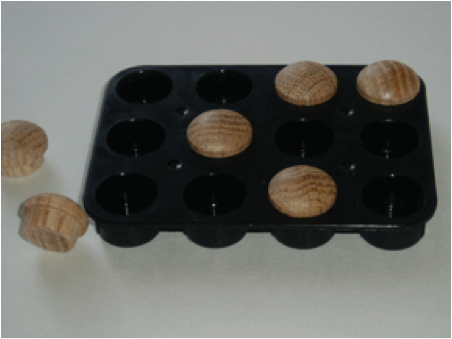 As your student/child increases his/her Braille skills, decrease the size of the tactual teaching Braille cell. Above are plastic base packing used to secure glue sticks found in many school offices. Oak 'button' (found in hardware stores) are used to create Braille contractions. http://www.nfb.org/images/nfb/Publications/fr/fr27/1/fr270116.htm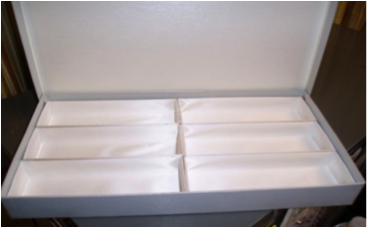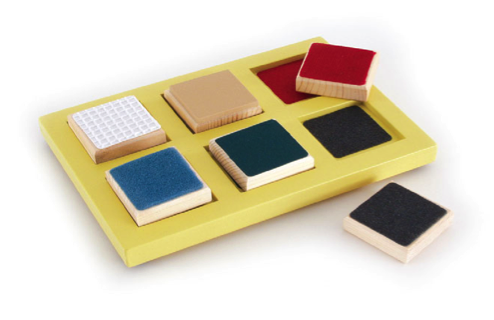 Adapted by: Merry-Noel Chamberlain, MA, TVI, NOMCT
It is important to introduce dot numbers as soon as possible because as the child begins to create the letters in their Braille cells or later, in writing on the Perkins or electronic note taking device, they will need to know those dot numbers especially for writing with the slate and stylus.
Find a box that has six compartments like a Braille Cell as shown above.
Have the student place objects in the compartment equal to the corresponding dot numbers. For example, in Dot #1's location, place one item in it. In Dot #2's location, place only two items in that spot. In Dot #3's location, place three items in that spot, etc.
If you have something such as wood strips with notches cut into them equal to the corresponding dot numbers, use that.
Point out that every dot has a home. Every home has a number. Just like apartment numbers.
Use different finger puppets or small toy animals in the Braille Cell. Select one toy to live in dot one (apartment #1) and select another toy to live in dot two (apartment #2) etc. Tell the student to move certain toys to visit their neighbors, "Dot number one wants to visit his/her friend at Dot number two."
Textured Matching Blocks (available at American Printing House for the Blind, http://shop.aph.org) helps encourage texture recognition and matching. It is also in the shape of a Braille Cell! This can be used to identify dot locations, as well. http://shop.aph.org/webapp/wcs/stores/servlet/CatalogSearchResultView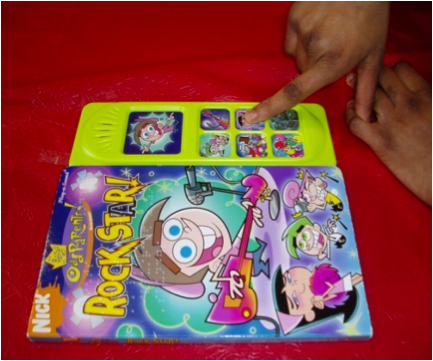 Adapted by: Merry-Noel Chamberlain, MA, TVI, NOMCT
Some books that offer sounds actually are in the shape of a Braille Cell (see above). Place Braille dot numbers in their correct location as shown below (if desired). As the story is read, instead of saying the picture clue, say the dot number clue. The student then selects the correct dot number and pushes it to create the sound to complement the story.
DOT 1 DOT 4
DOT 2 DOT 5
DOT 3 DOT 6
By: Cindy Holm, TVI
Skill Application: Slate and stylus, help with reversals
Object: To be the first person to make a braille letter with the numbered cubes
Materials: 5 cubes for each player.
Optional: 1" graph paper cut out to represent a braille cell.
To Play:
Decide on a letter to make with the cubes.

Take the corresponding number of dice. For example, if it is decided to make the letter m, each person will need 3 cubes for the dots 1, 3, and 4.

The players roll their cubes at the same time and try to get the dot numbers for the agreed upon letter.

If the letter to make is m, and a 3 is rolled, the player calls it out and sets it in the dot 3 position. Optional: The graph paper can be used to place the cubes in the correct dot position.

Players continue to roll until someone has rolled all the dots to make the letter.

Players receive a point for being the first person to make the letter. The first person to get 10 points is the winner.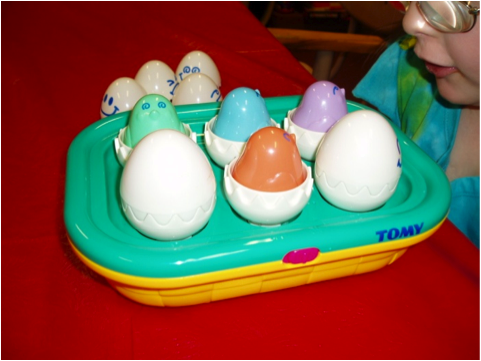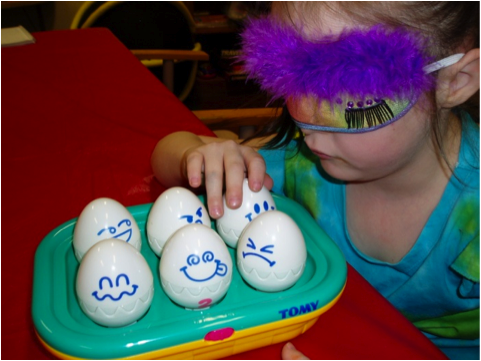 Sleepshades can add fun to Braille learning. It helps develop tactual skills.
Sometimes students enjoy decorating their own sleepshades.
Discourage 'peeking' if they have some remaining vision. Soon the student realizes they are successful without peeking!
Teachers/parents can wear sleepshades, too!
Love for reading begins early – even before a child is able to read. Having tactual books & books Braille available for little fingers expose the child to a whole world! American Printing House for the Blind (www.aph.org) has several books. My favorite is ALPHABET SCRAMBLE.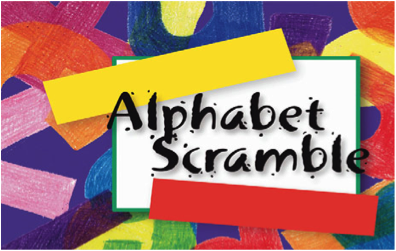 Read about Louis Braille and discuss how, at a very young age (15), Louis Braille invented Braille and how it is widely used today. Louis Braille: The Blind Boy Who Wanted to Read by Dennis B. Fradin (1997) is a large picture book. Often, children are surprised that Braille was invented by such a young person.
Locations for Braille books: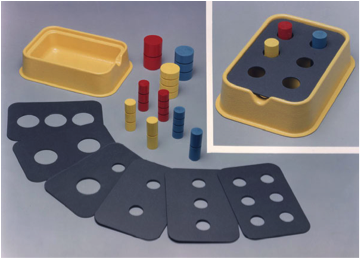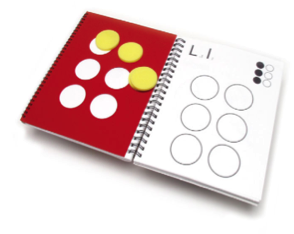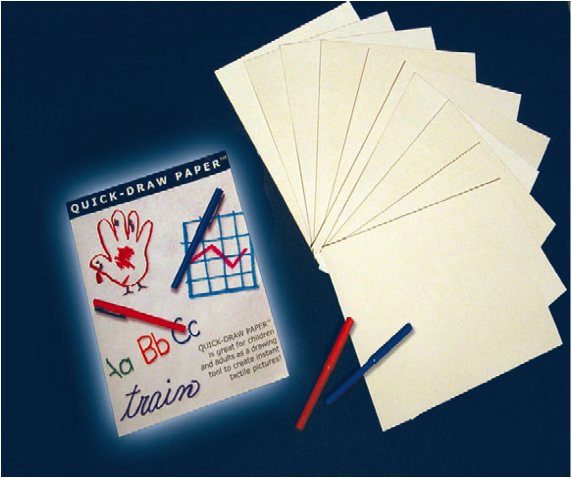 American Printing House for the Blind offers many supplies. Teachers of Students with Visual Impairments may obtain such supplies using "Quota Funds" or individuals may purchase them at: http://www.aph.org/. Above is a PEG KIT which 'happens' to include a frame that represents a Braille Cell. LOTS OF DOTS for letters and numbers are coloring books available through APH.
Merry-Noel Chamberlain, MA, TVI, NOMCT
Just as sighted children benefit from scribbling, blind children need that same opportunity. Here are a couple of ways they can scribble.
Place a sheet of Braille paper on a carpet sample.
Use a stylus and poke holes all over the paper.
Turn the paper over.
Tactually find the letters they created throughout their paper or with a crayon, pencil or pen, circle the letters found.
Count how many different letters were found
Create Braille Art with QUICK-DRAW PAPER available through APH.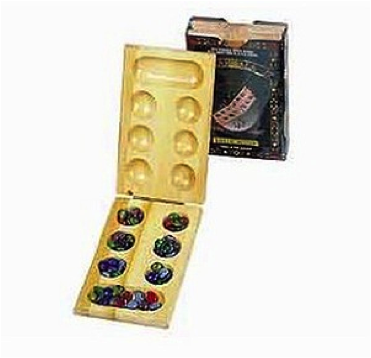 Adapted by: Merry-Noel Chamberlain, MA, TVI, NOMCT
Mancala: (Age 6+)
Use the game board that folds into two sections because it creates two perfect Braille cells.
Play the game end-to-end to have a great opportunity to review Braille contractions as you play.
Adapted by: Merry-Noel Chamberlain, MA, TVI, NOMCT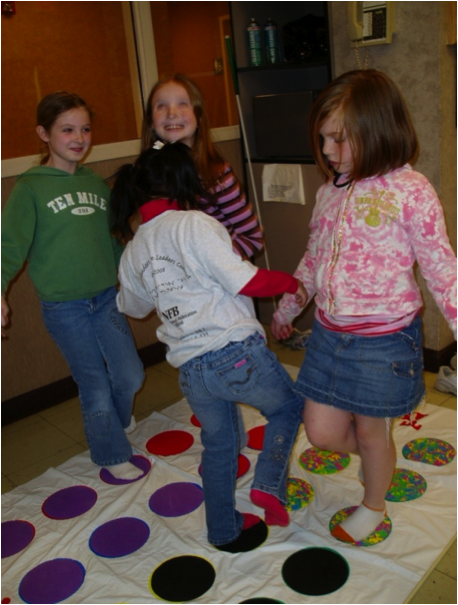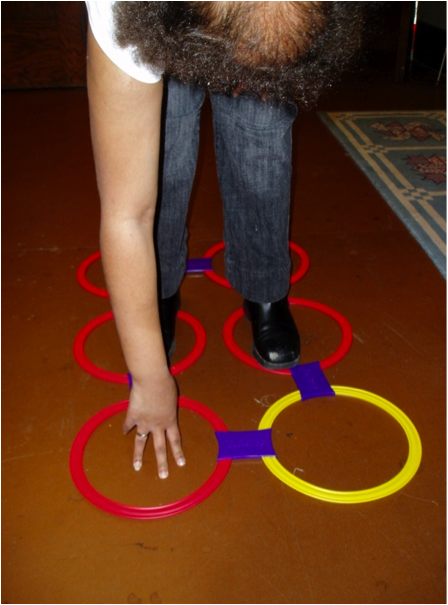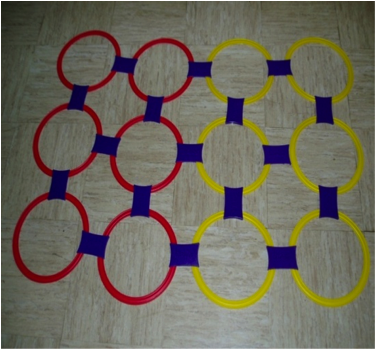 GET THE BODY INVOLVED!
Adapt a regular Twister game and draw letters for children to create. Or use the Twister Hopscotch game and create the Braille cell using six rings from the game. These rings can be either attached with the attachment hooks included in the game or the rings can simply be placed on the floor in the shape of the Braille Cell.
Twister Hopscotch rings are tactual on a tile floor or a carpeted area.
A shoe or toy can be placed into the correct Braille dot location in place of a body part, if needed.
More cells can be added in Twister Hopscotch as seen below.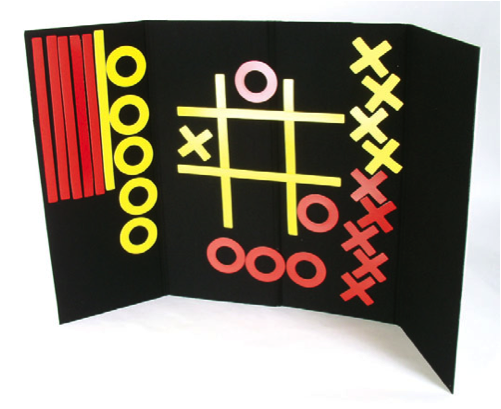 Adapted by: Merry-Noel Chamberlain, MA, TVI, NOMCT
Play the game as instructed.
Then cover the far right row or far left row to see how many Braille contractions can be found with the "X's" or the "O's".
Turn the board clockwise to find more.
Repeat.
Tic-Tac-Toe by Luxurious is the best because the pieces stay contained on the game board. (Available at the NFB Independence Market.) www.nfb.org/nfb/Independence_Market.asp
SHIFT-TAC-TO for more advanced students.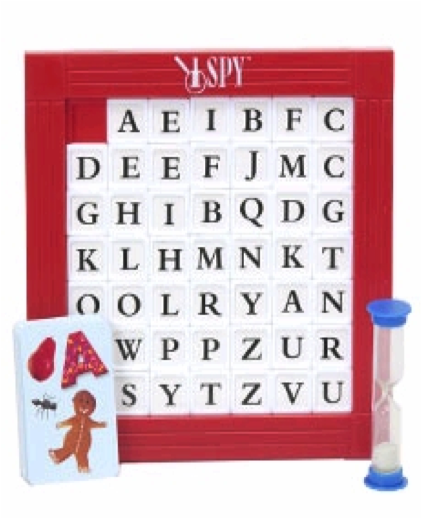 Braille the game board and cards.

Use a talking timer.

This game is a great teaching tool for a variety of Braille lessons.

Mix up the board and read the letters…find words…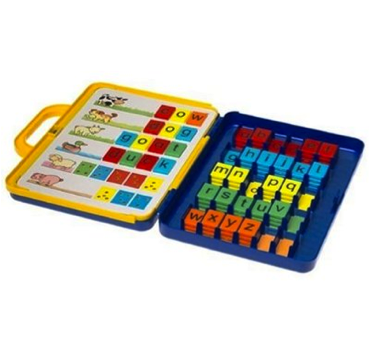 (Only The Right Letter Fits!)
Tiles and cards need to be Brailled.

Pictures need tactual stickers.
There is also Sum Time: Math game.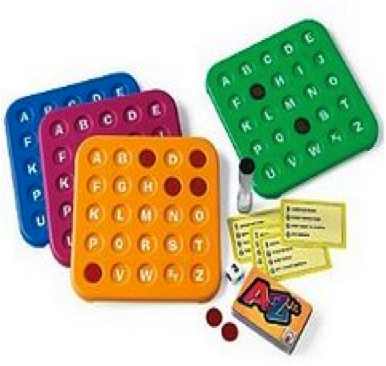 From Discovery Toys but it is discontinued. Keep a look out for it in thrift stores or ask a Discovery Toys representative near you.

Braille the letter game board and cards. Use Braille dice and change the meanings for numbers 5 and 6 to represent the game dice.

Buy the game for the board for a variety of other lessons or evaluations.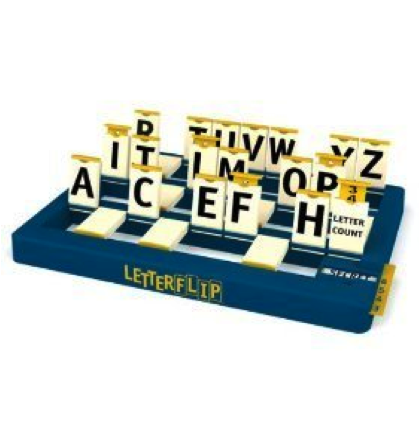 Adapted by: Merry-Noel Chamberlain, MA, TVI, NOMCT
Braille the letters upside down on the back of each tile.

Braille the cards.

Cover the print letters with duct tape and Braille them out of order to enhance Braille skills.

Buy the game for the board. This is a great teaching tool that can be used for a variety of lessons or evaluations.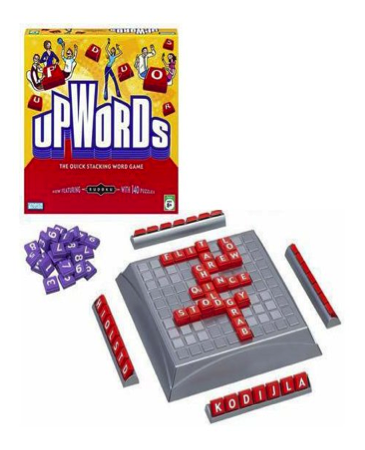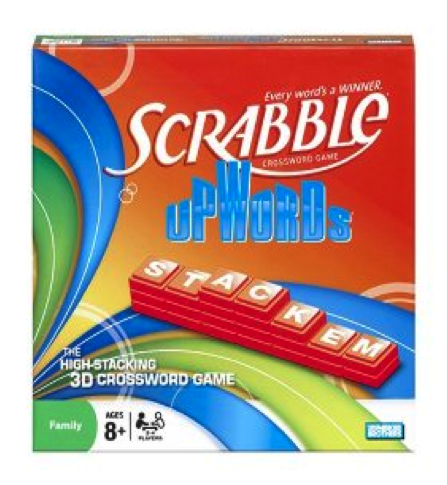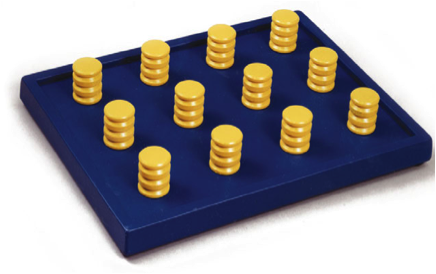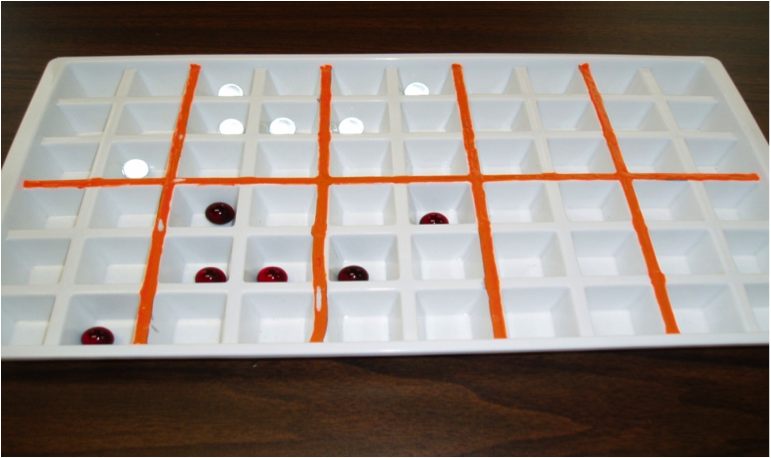 Once a child has mastered the basic letters, then introduce two cell contractions. TEXTURED PEGS (available through APH or TWISTER HOPSCOTCH can be extended to create two or more Braille cells.
For some students, camouflaging the items in the Braille Cell can encourage more tactual skills.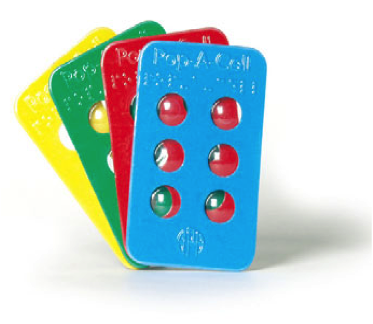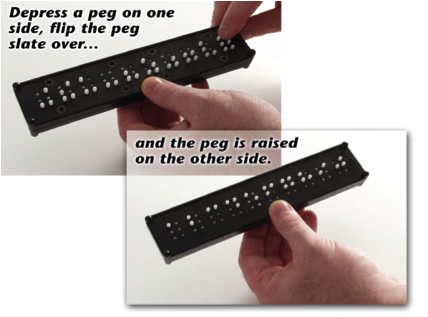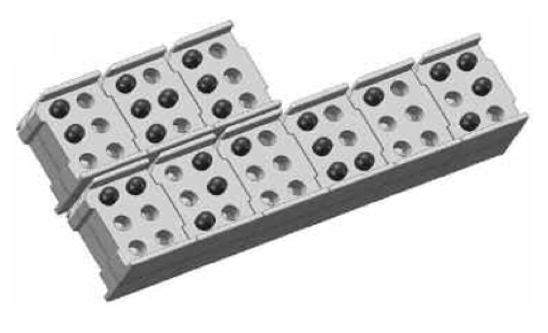 One way to introduce creating single letters with a slate and stylus is using a POP-A-CELL (below left) available through APH. These come in a set of four but you can get more to create words.

The PEG SLATE is a great tool to introduce writing words on the Slate and Stylus and is also available through Quota funds through APH. The CAL-tacTM BRAILLE CARAVAN can be used as single letters or words.

http://www.cal-s.org/braille-caravan.html
Some ideas:
• Play hangman.
• Practice spelling words
• Write the names of family and friends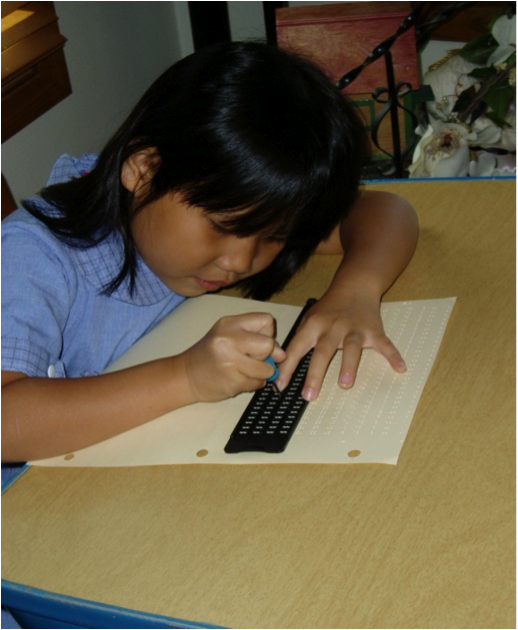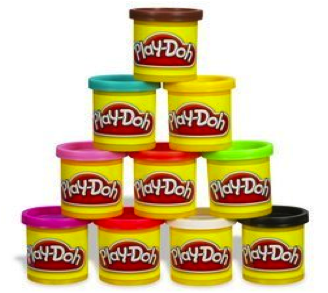 One way to teach the slate and stylus is to create a snake with Play-Doh then use a 'stylus' to create holes in the Play-Doh. Sometimes counting pegs are the nice size. Be sure to start at the right side of the Play-Doh and work your way left.
When introducing the Perkins Brailler, be sure to encourage students place the correct fingers on the correct keys as shown above. This will help them develop and maintain writing speed on the Perkins as well as electronic note-taking devices. Second, if a child is having difficulty with identifying which finger goes on the Perkins for each dot number, the SWING CELL may assist. Playing with Play-Doh, squeezing a stress ball or popping packing bubbles can help with strengthening fingers.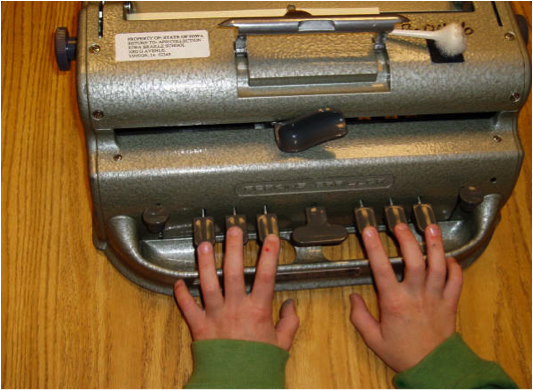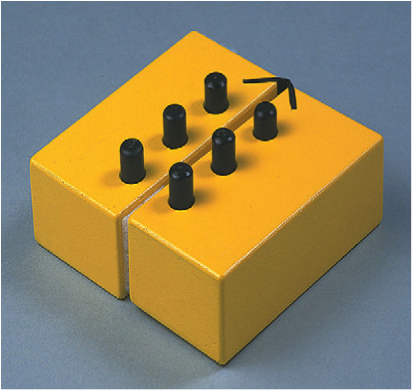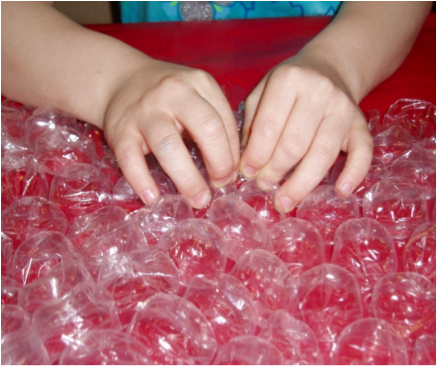 Classroom teachers & Parents may find this chart helpful.

Click here for a chart to assist with the finger locations for creating Braille letters on the Perkins. [GO TO LINK – Page 3 Finger Location ]

NOTE: Coloring in the circles with a Black 20/20 pen helps the chart be easier to read.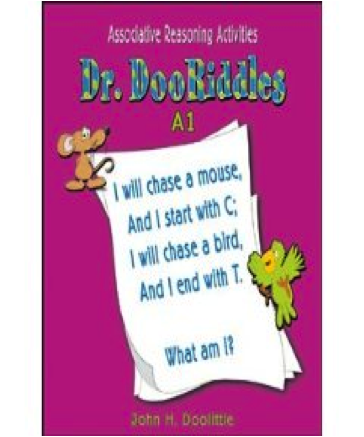 Find a book such as Dr. DooRiddles, by John Doolittle, 1994 and take turns reading it to each other IN BRAILLE
[Return to top]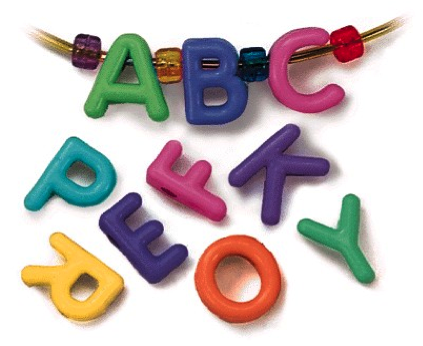 Adapted by: Merry-Noel Chamberlain, MA, TVI, NOMCT
Have the student create words and sentences on a necklace.

Then have the student Braille his/her creation either on the Perkins or via Slate & Stylus.

These also come in numbers.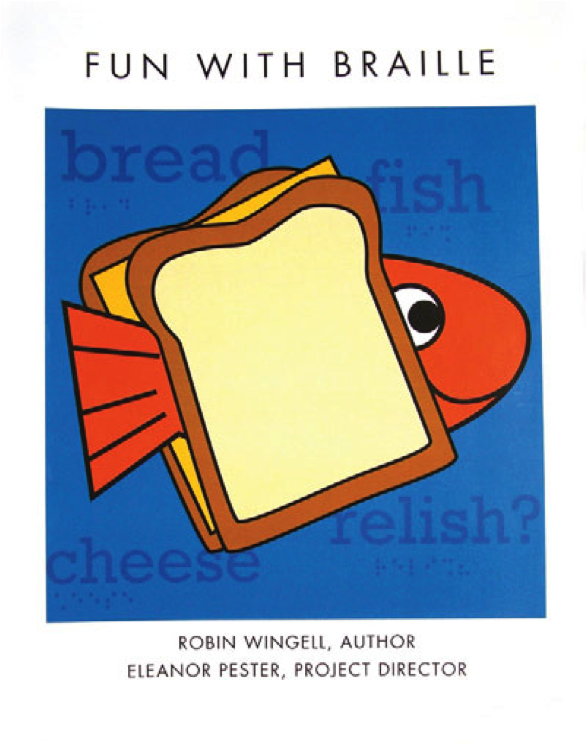 Braille Practice with a Difference
— It's Fun!
This book is available through American Printing House for the Blind. It has more advanced Braille activities.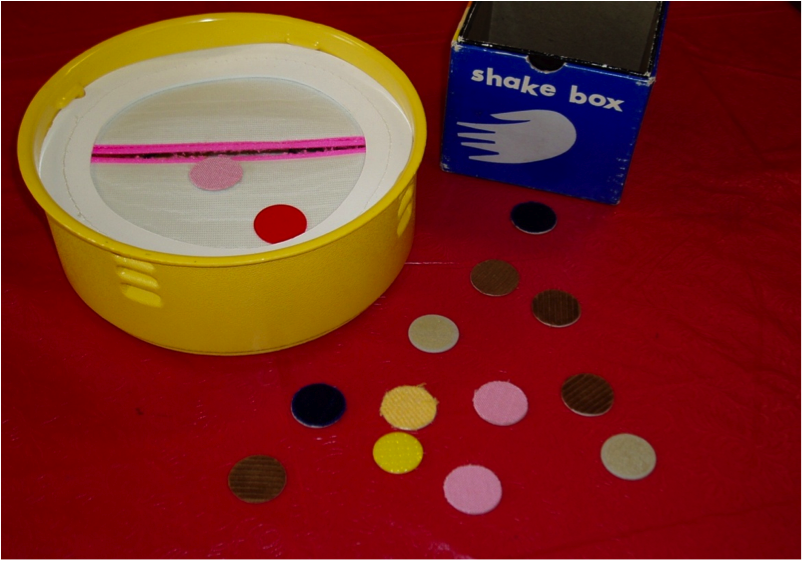 Merry-Noel Chamberlain, MA, TVI, NOMCT

For directions how to play this game, go to: http://www.nfb.org/images/nfb/Publications/fr/fr27/4/fr270418.htm
Adapted by: Merry-Noel Chamberlain, MA, TVI, NOMCT
1.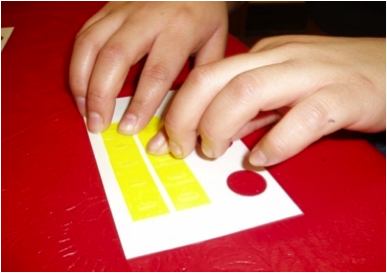 3.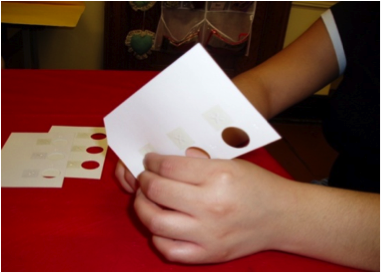 2.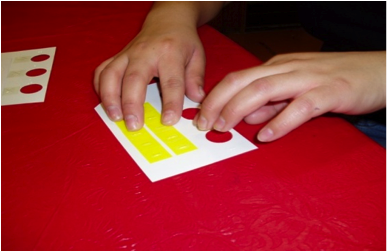 4.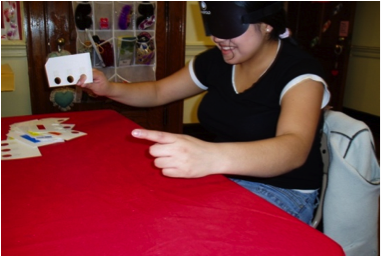 On 3X5 cards place tactual stickers (available through APH) for students to count (1 through 10) on one side.

Place three large holes along the bottom – the size for a finger to go through. (Hole punches available at hobby stores.)

Braille three numbers; one beside each hole. Be sure one is the correct number.

The student counts the tactual stickers and selects the correct corresponding number along the bottom by placing his/her finger in the hole next to it.

The student turns the card over and finds a circle sticker if he/she is correct or an 'x', if he/she is not correct.

For best results, have student wear sleepshades as shown above.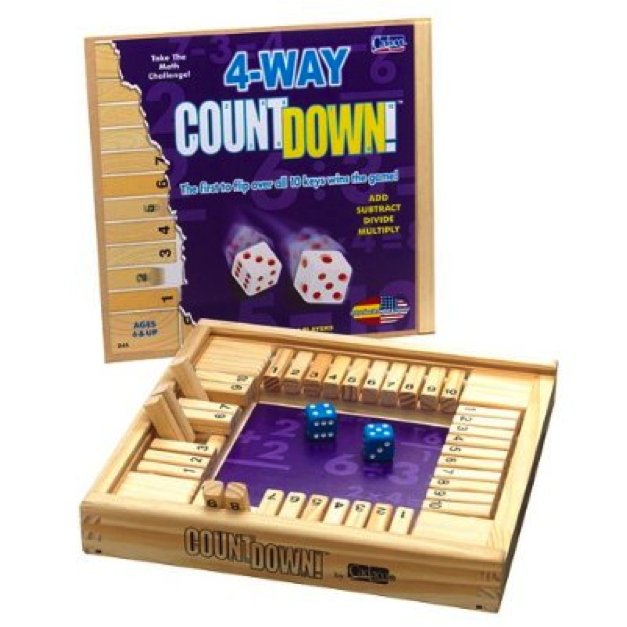 Play game as instructed.

Use Braille dice.

Place Braille numbers on the board (however, Brailling the game board is optional.)

You may want to place foam or a felt pad in the box to make it less noisy to use in classroom situations.

This game builds tactual skills.
[Return to top]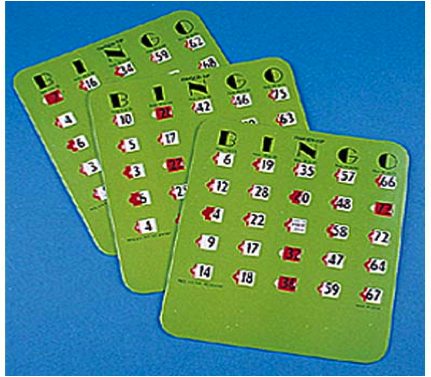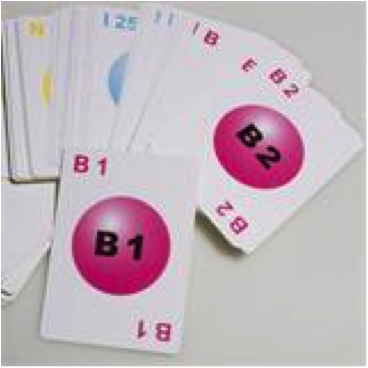 Bingo cards available at www.OrientalTrading.com or www.nobbies.com

Adaptation: Braille the cards or make your own cards.

Braille the call-out numbers on the BACKS of old playing cards or purchased Bingo Calling Card.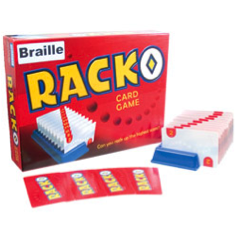 This game has a plastic "rack" in which the cards sit.

Place the Braille numbers on the cards so that the player can reach over the card and down to read the Braille on the top of the backside of the card as it sits in the rack. (It is awkward to try and read the Braille while the card is in the rack if the Braille is aligned on the top and front of the card.)

An alternative is to Braille the number on the back side of the right side of the card (as shown in center picture above) but this may be difficult for left handed players.

Clip the top right corner of the card so that the child knows which side is up.

This game provides good practice in reading Braille numbers and manipulating cards independently.

An alternative is to create alphabet cards and play again.

Another alternative is to create cards with NO PRINT or play while wearing sleepshades.

NOTE: RACKO is now available in Braille for about 4X the cost of purchasing it (upper left) and adapting it yourself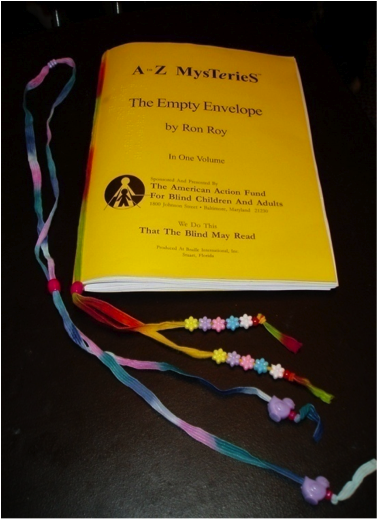 Sometimes creating BRAILLE BOOK BOOKMARKS can make reading more fun. These bookmarks are great for large Braille books because they hold the spot very well. Plus they are easy and fun to make.
Use a large shoe string or thick yarn and place a knot at the end.

Thread a small bead and pull to the knot.

Add larger beads to individuals' desire.

Thread the adjustable bead to help lock the bookmark in place.

Place another smaller bead to stop the adjustable bead from falling off. This small bead is shown at the top of the bookmark in the picture above.

Thread the end of the shoe string or thick yarn back through the adjustable bead.

Place larger beads to match other end (if desired.)

Place another small bead to hold larger beads from falling off and knot the end.

Read an interesting story and answer questions about it.
Have a story read aloud and take notes (Louis Braille: The Blind Boy Who Wanted to Read)
Provide an unusual object and write about it – What is its purpose? – What it might be a part of? – What happened to it?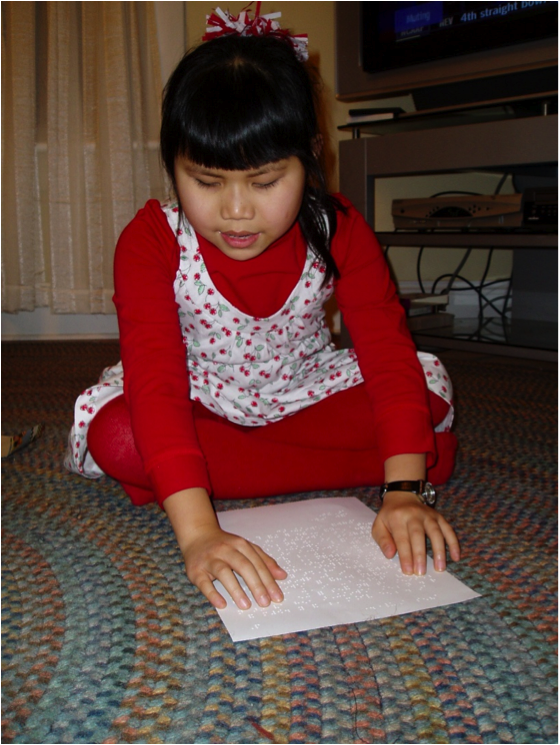 Each year, "Santa" will write a letter to children, upon request. The National Federation of the Blind assists Santa in doing this. Go to:
http://www.nfb.org/Forms.asp?MODE=NEW&SnID=2&Forms_FormTypeID=-45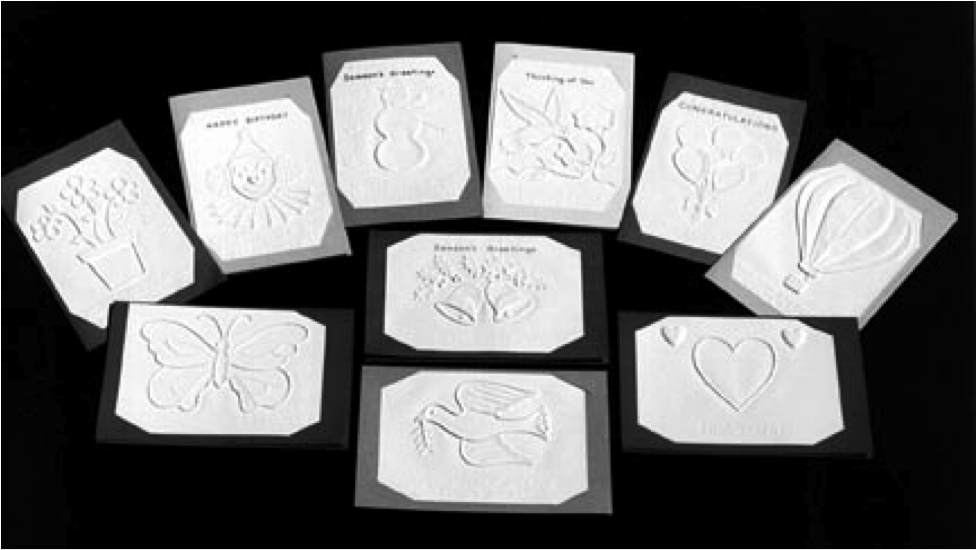 Either create one's own greeting card by creating pictures from "So What About Drawing" http://www.ssc.education.ed.ac.uk/courses/vi&multi/MariePorter.pdf or purchase CAL-tacTM Notecards (Greeting Cards) at: http://www.cal-s.org/braille-greeting-cards.html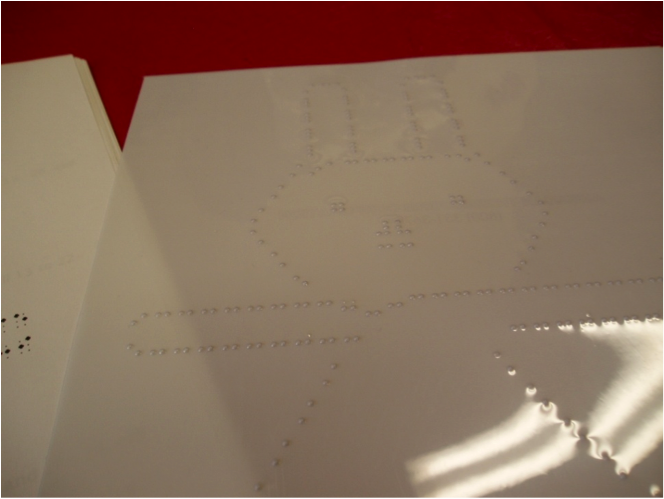 This is a great tool for creating Braille art through contractions on the Perkins Brailler. It helps students remember difficult contractions, too! There are instructions for creating several pictures such as: shamrocks, Christmas trees, sailboats, bears, angels, flags and much, much more. Go to the following website to print off your own copy. http://www.ssc.education.ed.ac.uk/courses/vi&multi/MariePorter.pdf
Body Braille is another fun learning tool.
Number of players: One or more
Items needed: Draw sticks with letters written in Braille. Or listen to The Braille Rap song and do this with the music. http://www.pathstoliteracy.org/strategies/braille-rap-song

To begin, establish dot numbers with the body:
Dot 1: Raise the left hand above the head and slightly to the left.
Dot 2: Move the hip to the left.
Dot 3: Place left foot out to the left.
Dot 4: Raise the right hand above the head and slightly to the right.
Dot 5: Move the hip to the right.
Dot 6: Place the left foot out to the right.
Then, take turns pulling letters from cup and individuals create the letter with their body. Please note: For letters that need both dot two and dot five (such as g, h, j, q, r, and w), individuals will need to alternate (move) their hips to the right and the left.
If using the Braille Rap Song – move your body to form the letters then do the actions stated in the song.
To encourage tactual Braille reading, make Braille flash cards out of old playing cards.
Cut the old playing cards in half or buy small party cards. Braille flashcards need not be large.
Emboss the Braille so that the dots are read on the backside of the cards. The visual clutter on the card discourages the low vision reader from trying to read the Braille with his or her eyes. Rather, it encourages tactual reading.
Cut the top right corner of the cards so that one is able to determine which way is up.
Place a full cell before dropped contractions so one is able to determine the contraction is a dropped contraction and/or only found at the sentence.
Place a full cell before and after contractions that are found in the middle of the word such as "gg".
Place a full cell after the contraction if that particular contraction is only found before a word such as "to".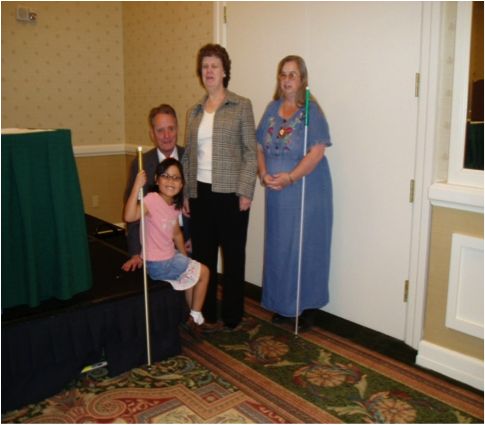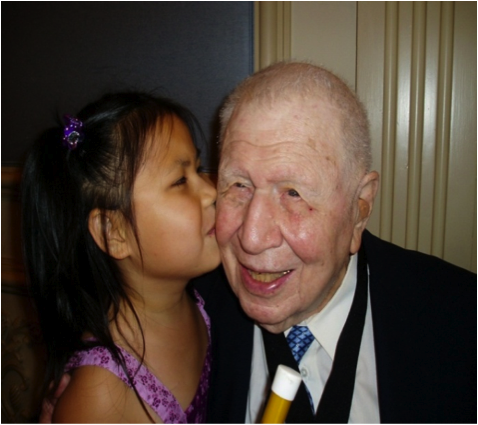 Ashleah & Merry-Noel Chamberlain with Dr. Maurer, President of the National Federation of the Blind, and his wife. Ashleah Chamberlain kisses Dr. Nemeth, the inventor of the Nemeth Code used for mathematical equations for blind individuals.
This is a great way to meet other families who have children who are blind, successful blind role models, and learn about blindness. Below, a child enjoys meeting Santa, who happens to be blind, at Saturday School in Des Moines, Iowa. Below an adult, who happens to be blind, reads a Christmas story in Braille to the children. http://www.iowasaturdayschool.com/Default.aspx